Your Essential Science Fiction Books for May 2017 
From muderbots to the origins of the xenomorphs, sci-fi reading is dangerous this month.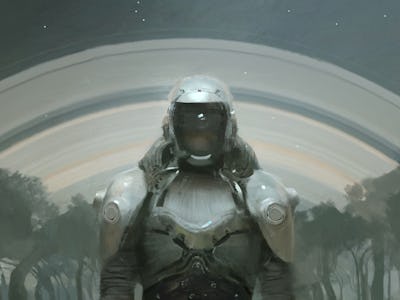 Tor.com Books
Historically, the month of May is often a great time for science fiction at the cinema, but this month, the same can be said science fiction at the bookstore. The selections of essential sci-fi reading this month might have heard that the Alien franchise was rolling back into our quadrant because a huge majority of the titles this month are thrilling. From killer robots to new details about beloved franchises, here are your best bets for science fiction reading material this month.
If the killer emoji bots in the most recent episode of Doctor Who weren't quite scary enough, then this novella will certainly deliver in the robo-horror department. When a certain robot on a future space colony becomes self-aware, it starts to think of itself as "Muderbot." No joke.
Release date: May 2
If X-Men-style mutants were real, they might be like the titular girl in M.R. Carey's first book in this series: The Girl With the Gifts. The tradition of scary superpowers continues in The Boy on the Bridge, a companion book to Carey's first smash hit.
Release date: May 2
This much-discussed book for young readers will not only chronicle the lives of Baze Malbus and Chirrut Îmwe, but also contains prose, poetry, and meditations about the Force. And some of those insights might even connect to The Last Jedi.
Release date: May 2
Filling in the years between the first five minutes of Rogue One and the rest of the movie, this YA novel is all about what Jyn Erso was up to in her teenage years. In the movie, we hear she had a lot of aliases including "Leanna Halick." Hopefully, this book will help readers figure out why she was such a criminal and what she got up to while she was "Leanna."
Release date: May 2
D'Arc by Robert Repino
Continuing Robert Repino's excellent "War With No Name" series, the latest book, D'Arc, is all about an intelligent dog. But, to be fair, this entire series is about a future in which cats have risen up to take over the world. This is weird sci-fi at its best. You don't need to have read Morte or the brilliant Cludesac to get into D'Arc, but the entire series is one of the most unique concepts in contemporary science fiction.
Release date: May 9
Vanguard by Jack Campbell
No list of new sci-fi novels would be complete without at least one action-packed novel filled with the occasional space battle. As a purveyor of military science fiction, Jack Campbell is seldom matched. If you haven't read his previous Lost Fleet novels, you're forgiven. This new page-turner i a prequel.
Release date: May 16
The author who wrote the very first novelization of Alien back in 1979 returns to pen the book version of the latest installment in the franchise. As books based on movie scripts go, Alan Dean Foster is still one of the best business.
Release date: May 23
For readers longing for continuing mission of the crew of the Enterprise circa The Next Generation era, the latest new adventure from Dayton Ward is here. This story promises to link very early 21st-century human space exploration with the late 24th century.
Release date: May 30
Past Updates