Your Essential Sci-Fi Reading List for January 2017
Start the new year with the best science fiction in print.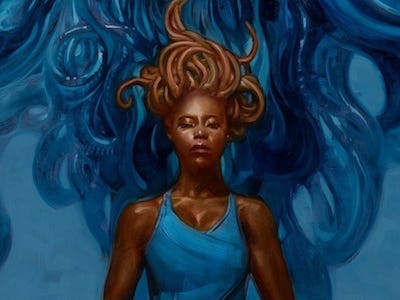 From empires in the far future to humans who feel like aliens on a forgotten Earth to alternate dimensions, intelligent apes, and some very famous special agents in charge finding flying saucers, January 2017 is an excellent month for science fiction readers. The following is by no means a complete list of all the titles published in the genre this month, but this is a diverse, curated guide to your best bets. Fans of hard science fiction will find some great books, as will fans of softer sci-fi or YA. As with many sci-fi lists, a few of these titles are part of a series that is already in progress, but that shouldn't ever stop a reader from diving in. There's also a few new anthologies of short fiction on this list, for those looking for lighter, shorter fare.
The jump to reading at lightspeed starts here!
If you're still thirsting for any X-Files background information, two new novels will reveal the untold origins of both Mulder and Scully's beliefs. Agent of Chaos is all about how Mulder came to believe in aliens while Devil's Advocate chronicles Scully's journey to becoming a skeptic.
Both books are out now.
The third in a series, Bodies of the Ancients blends soft science fiction with dire climate change speculation. All three books in the series are also appropriate for younger readers, too.
Release date: January 10.
This anthology consists of short stories all based on the original Planet of the Apes film continuity, as opposed to the new films. While prose about Planet of the Apes might seem strange, consider this: The original film was based on the novel of the same name, written by Pierre Boulle. This collection includes stories from science fiction stalwarts like Dayton Ward and Robert Greenberger.
Release date: January 24.
The revered editor of Clarkesworld Magazine, Neil Clarke, compiles samples from all the best far-spanning empires print science fiction has to offer. Boasting mostly contemporary short stories from science fiction authors, this anthology includes galaxy-spanning tales from talents like Naomi Novik, Brandon Sanderson, Ann Leckie, Tobias S. Buckell, and more.
Release date: January 17.
One of the most anticipated science fiction books of the year, Carrie Vaughn imagines a homesick girl raised on Mars, now living on Earth. A classic coming of age will collide with a story of a very human extraterrestrial.
Release date: January 17.
The author of the super-popular Divergent series sets her sights on space opera. This means this series could be a mash-up of The Hunger Games and Star Wars. That's worth a look, right?
Release date: January 17
Continuing this series of alternate universe sci-fi, Charles Stross presents an alternate 2020 in which a new British Empire has just been defeated. Even if you haven't read previous "Family Trade" books, jumping into bizzaro dimensions with a master sci-fi writer like Stross can't be a bad move.
Release date: January 17.
Wayfarer by Alexandra Bracken
Another alternate universe adventure, Wayfarer is the second in the "Passenger" YA series. Erring more on the softer side of science fiction, this series is for readers who wish fantasy quest-books like Game of Thrones had more time travel.
Out now.
The second novella which began with the book Binti, author Nnedi Okorafor takes us back to the future in which a race called the Meduse has had a long-standing beef with the human race. This time Binti and Okwu are headed back to Earth. But can they call it home? If there's one book you grab on this list, this one might prove to be the one everyone will be talking about.
Release date: January 31.
Check back in February for your essential sci-fi books and take a look at the essential Fantasy for 2017, too!