Your Essential Science Fiction Books for March 2017
Wisecracking robots, the distant future of New York City, a solo flight to Venus, and more!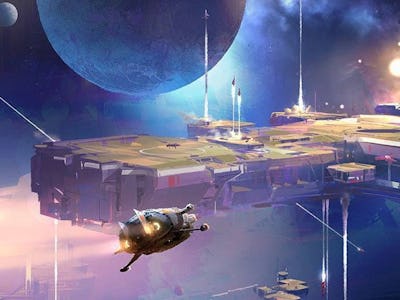 As spring approaches here on Earth, the season of excellent science fiction books is heating up. With new novels from both Kim Stanley Robinson and John Scalzi, March is already packing some of the biggest ray guns in the genre. But there's a Czech astronaut heading to Venus and a smooth-talking robot hitman coming out this month, too. From sprawling interstellar conundrums to some intense training for a mission to Mars, here are all the must-read science fiction books being published this month.
Ray Electromatic is a robot hit man, and the adventures he occupies are dripping with noir-nostalgia that could satisfy either fans of Raymond Chandler's Philip Marlowe, or those who wish Blade Runner was a little funnier. Adam Christopher basically picked up where Jonathan Lethem left off with Gun, With Occasional Music. This isn't the first Ray Electromatic adventure, but it's a great place to start.
Publication date: March 7
Debut Czech author Jaroslav Kalfar is flying under the sci-fi radar with his first novel. Literary heavyweight Sam Lipsyte says this novel — all about a lonely mission to Venus — "finds levity in gravity and vice versa." This is a great character-driven science fiction, with a wonderfully original new voice.
Publication date: March 7
The second book in the Terra Ignota series, Seven Surrenders, takes place in a future in which traveling around the world is easy — almost magically instantaneous. In this book, Mycroft Canner is trying to unravel the global conspiracy plaguing him. Palmer began this series with the critically acclaimed Too Like the Lightning.
Publication date: March 7
Feeling smart about science fiction is the number one pastime for fans of science fiction. And what better place to start than a giant collection of criticism on the genre? From old-school essays from Hugo Gernsback, to New Wave masters like Joanna Russ and Samuel R. Delany, this anthology is a must for conversation-starters from now until the end of the universe.
Out now.*
Possibly the most anticipated science fiction novel of the year, the celebrated author of Red Mars returns with a vision of the future of New York City in the next century. When the sea-levels of the Earth get crazy, society changes completely. This book is our guide to that all-too-real future culture.
Publication date: March 14
When the artificial intelligence known as Lovelace gets put in a new synthetic body, her life is going to get way worse than it was before. Though this book is in the same universe as Chambers's other book The Long Way to a Small Angry Planet, it can be read by itself no problem. For fans of whimsical science fiction, A Close and Common Orbit is being favorably compared to Firefly.
Publication date: March 14
Ostensibly, this novel is about heading to Mars, but the premise of The Wanderers is focused on a simulation that prepares its astronauts for the grueling journey ahead. But what's harder emotionally, Mars itself or the simulation to prepare for Mars?
Publication date: March 14
Interstellar commerce is threatened in the latest space-empire romp from John Scalzi. Unlike other vague, faster-than-light science fiction, Scalzi's starships are connected by a specific phenomenon called the Flow. But if the Flow can connect planets and star systems, it can separate them, too. An economic system on a galactic scale is critiqued in this Asimov-worthy epic.
Publication date: March 21
The rich and powerful family that owns the Moon in the future is threatened in a new science fiction thriller from Ian McDonald. Did Lucas Corta fake his death? Will Lady Sun, dowager of Taiyang, be able to figure out who is in control of the moon? There might not be literal dragons in this one, but McDonald's realism always delivers.
Publication date: March 28
A warm, non-fiction look at arguably the most popular science fiction TV show of all time. For nostalgia buffs or as a primer for getting into The Twilight Zone, this book is comfort food for fans of TV speculative fiction at its best.
Out now.
Past Updates