Your Essential Sci-Fi Reading List for December 2016
These are the winter science fiction books you're looking for.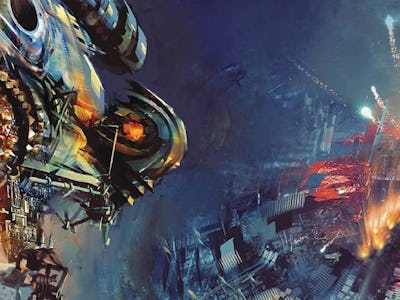 Orbit Books
Just because 2016 is almost over doesn't mean there's not still time to head into the distant future, hit up an alternate dimension in the past, or hang out with some sci-fi witches who may or may not be pulling a full-on Doctor Who homage. For fans of adventure-driven science fiction novels with solar-system wide consequences, December is a very, very good month. Here's an essential list of science fiction books to grab before the end of the year.
The second in Cornell's Witch's of Lynchford series, an insider has described this novella as "a Doctor Who guy doing a Doctor Who Christmas Story without the Doctor." Paul Cornell has of course written for Doctor Who before and also boasts an impressive career as both a fantasist and science fiction writer. The "witches" in this series might wield magic, but there might be a science fiction explanation behind it all.
Just released in late November.
The latest novel set in Weber's iconic "Honorverse," this novel focuses on an alien plot to genetically alter human beings on a galaxy-wide scale. Arguably, Weber remains a giant among fans of military science fiction, and in terms of page-turning plots, his books are still gripping.
The struggle to control the alien-created "ring gates" will likely dominate the majority of latest installment in the popular Expanse series. The sixth novel in the series will find James Holden and the crew of the Rocinante still kicking and trying to save the remnants of the solar system from even more chaos than the previous five books. For fans of the SyFy show based on these books, consider reading this novel like a distant future spoiler alert.
Release date: December 6.
Last Year by Robert Charles Wilson
For fans of alternate-universe science fiction — like The Man in the High Castle this new book from the brilliant Robert Charles Wilson can't be missed. Multiple doorways are opened to multiple "pasts" in this book, including an alternate 19th century United States. Based on the excellence of his novel Spin, there's every reason to believe Wilson's latest sci-fi reality-hoping adventure will deliver.
Release date: December 6.
Old school sci-fi space opera meet galactic empire storytelling in Wagers's second installment of the Indranan War series. Hail Bristol is like a female Han Solo mixed with Paul Atreides. What are you waiting for? The first novel, Behind the Throne, was a rip-roaring slick space adventure. This series is one to watch for the fan of action-packed sci-fi.
Release date: December 13
The third novel in Bear's War Dogs series, this installment will pit humans on the Titan against humans from Earth who don't like the alien species called Gurus. Planet X, and other heavenly bodies found in the Kuiper Belt out beyond Pluto will also play a role.
Release date: December 20
Obviously, this book is a tie-in novelization to the new film based on the super-popular Ubisoft game. But, the author Christie Golden is something of a badass in fandom circles. She's written several Star Trek novels, as well as in-canon Star Wars novels, including Dark Disciple, a story which chronicles the fate of Asajj Ventress from The Clone Wars. Golden's take on Assassin's Creed might be worth checking out, if only to get extra details not explained in the film.
Release date: December 21
Bonus Non-Fiction book about Science Fiction: Words Are My Matter by Ursula K. Le Guin
Though this book already published in late October, why wouldn't a science fiction fan want to round-out their year with the wisdom of Ursula K. Le Guin? An undisputed master of the genre, Le Guin also has a unique philosophical insight into the history of contemporary science fiction. This book collects Le Guin's non-fiction exclusively from the 21st century, arguably a time that she's been the most out-spoken.
Check back here in January for your first science fiction book roundup of 2017!
(Top image: detail for the cover of Babylon's Ashes, Orbit Books)