Ursula K. Le Guin Crashes the Stuffy Library of America
The venerable science fiction legend continues to do things her way.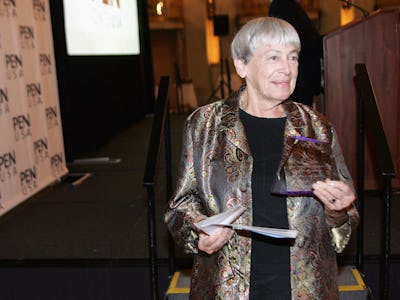 Getty Images / Michael Buckner
Ursula K. Le Guin has made a career out of smashing the fuck out of literary norms and genres with her subversive science fiction, and now, she's finally getting some recognition from the prestigious Library of America.
The venerable publisher is primarily reserved for more stuffy "literary" writers, so it's pretty groundbreaking that it will publish a volume of Le Guin's writings next month. It's not without precedent, though — several volumes of Kurt Vonnegut's work have been published under the Library's iconic, slick, black covers, not to mention Le Guin's contemporary, Philip K. Dick. Still, if you don't count Vonnegut as real science fiction, then Le Guin and Dick — who went to the same high school — are the only science fiction writers who've been given personal volumes.
Le Guin's inclusion in the Library of America is also notable not just because she's generally classified as a science-fiction writer, but also because she's being canonized by the Library of America while she's still alive. More unique still, the first Library of America Le Guin book will not be a fancy reissue of her most well-known science fiction novels and stories. Here, you'd probably expect this LOA volume to include Le Guin's most famous short stories like "The Ones Who Walk Away from Omelas," or the "Word for World is Forest," along side her groundbreaking gender-bending novel The Left Hand of Darkness. Nope. Le Guin will instead publish a collection of various writings called "The Complete Orsinia."
Published throughout Le Guin's career, the Orsinia tales are set in an imaginary European country, but the writing isn't necessarily science fiction. On the choice to have the Library of America publish her lesser-known Orsinia stories over her more famous books (like A Wizard of Earthsea) Le Guin told the New York Times "Theres some innate arrogance here: I want to do it my way."
Ursula K. Le Guin: The Complete Orsinia will be published by The Library of America on September 6. Meanwhile, a new collection of Le Guin's non-fiction called *Words are My Matter" will be published by Small Beer Press on October 11.