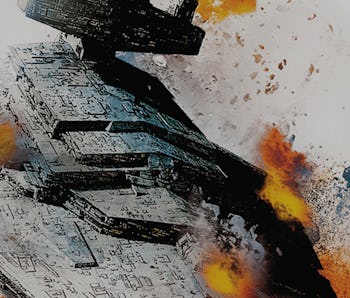 Entertainment
Your Essential Sci-Fi Reading List for February 2017
The best on the page in our galaxy and beyond.
Figuring out what to do for Valentine's Day in another universe or in a far-flung future is not the subject of any new science fiction books out this month. But, there are some more interesting topics unfolding in the pages of the best the genre has to offer in February. Giant, planet-sized spaceships are roaming on the edge of the universe, heists-in-space are creating pirate-esque vibes, while a few classic reissues of suddenly relevant science fiction masterpieces are triumphantly returning. Oh, and there's a new HUGE Star Wars book out, too.
The following is by no means a complete list of every single science fiction title new to bookshelves in February, but it is a guide to your best bets. If the genre of science fiction should present plausible futures while at the same time entertaining the hell out of the reader, the books below hit both of those criteria faster than the speed of light.
From French author Boualem Sansal comes what is being heralded a "modern 1984." Set in a future kingdom of Abistan, Sansal imagines a world in which religious freedom is non-existent. Updating Orwell is no easy task, but 2084: The End of the World comes close.
Out now.
Described by Boing Boing as a "fiendishly clever puzzle," Mur Lafferty's novel Six Wakes is a hard science fiction murder mystery. It's murder in space, but done well and correctly; what more do you need to know?
Out now.
Written by the well-known essayist of The Geeky Feminist Revolution, this new space opera focuses on massive world-sized starships. This far-future epic has been described by John Scalzi as "badass."
Publication date: February 7.
Star Wars loves trilogies, and now, another trilogy will come to an end. Starting in 2015, author Chuck Wendig began chronicling the events that took place in betweenReturn of the Jedi and The Force Awakens. From Wedge Antilles, to how the Empire tried to restructure itself after its defeat on Endor, these books have covered a lot of canonical Star Wars ground. In this third and final book, Lando Calrissian will look for baby presents, while Grand Admiral Rae Sloane leads the Empire and the rest of the galaxy hangs in the balance.
Publication date: February 21.
Originally published in 1998, Octavia Butler wrote this pair of novels about a future dystopia. Hopeful and uplifting, the primary aim of the novels is for certain humans to establish a new kind of faith to buoy them in uncertain times. Famously, the second book, Parable of Talents, sees Butler presciently predicting a dangerous presidential candidate who claimed to want to "Make American Great Again." Having new editions of these books back in print might provide some of the sci-fi political fuel many are craving right now.
Publication date: February 21.
On the softer side of sci-fi, Caitlin Kiernan's new novella explores the connection between a NASA probe and a woman who is removed from the regular flow of time. As the title and premise suggests, hauntings and sci-fi are blended with tinges of what has been described as "Lovecraftian horror."
Publication date: February 28.
Revenger by Alastair Reynolds
Heralded as "Pirates of the Caribbean meets Firefly" by The Guardian, Alastair Reynolds's status as one of the greatest living writers of space-based science fiction appears to be intact. The nice thing about this one is that it's a story about a space heist that's not part of a series.
Publication date: February 28.
Before he was famous for writing the epic fantasy series A Song of Ice and Fire, George R.R. Martin launched this anthology series about a group of X-Men-styled superheroes, all of whom have sci-fi origin stories. The latest book compiled by Martin, Wild Cards, is actually a re-print and contains stories from Melinda Snodgrass, Walter Jon Williams, and more. Because Wild Cards is in development as a big TV show, this book is an easy way to dip your toe into this hardcore superhero universe.
Publication date: February 28