SpaceX Aerial Video Shows Falcon 9 Landing With Precision
Watch the mechanics of the booster in action.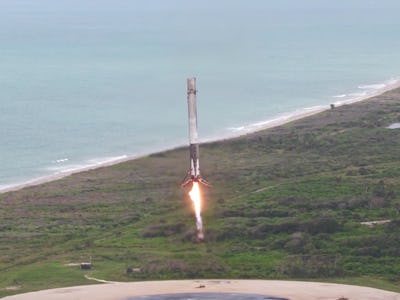 SpaceX
It's not really news that SpaceX landed its Falcon 9 rocket booster back on Earth after a trip to space, but that doesn't make it any less breathtaking.
On Tuesday, Elon Musk's aerospace company released a 31-second video clip of Saturday's Falcon 9 landing at LZ-1 at Kennedy Space Center. Even though the first landing at LZ-1 was in December 2015, and the first landing on a drone ship was in April 2016, it's still cool to see the mechanics of the booster in action, especially in HD and on a sunny day.
Saturday's safe landing was the end of a return trip to Earth that saw SpaceX complete its eleventh cargo resupply mission to the International Space Station. The video seems to have been shot from a drone or other method of aerial photography.
Reusability of technology is at the core of SpaceX's business plan, and that philosophy extends beyond rockets. The Dragon cargo vessel that the Falcon 9 sent to space was also a slightly used model. Back in September 2014, it made its first voyage to space and back on the SpaceX CRS-4 mission, before (gently) splashing down in the Pacific.
On Monday, the Dragon cargo vessel — filled with "6,000 pounds of supplies and payloads" — completed its journey to the ISS. In about three more weeks — the date has not been announced yet — the Dragon vessel will make the trip of about 5 hours and 40 minutes back to Earth, before once again plopping into the Pacific off the coast of Baja, California.
All of this reusability amounts to game-changing savings. The Falcon 9 rocket costs $62 million, but the fuel only costs $200,000 to 300,000 per mission. The majority of the cost comes from building the rocket, so reusing it makes space business less expensive.