'Stranger Things' Star Shares Photo of His Hellboy Fist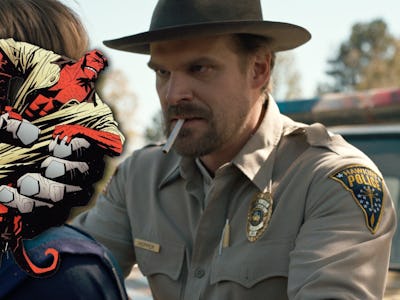 Netflix, Dark Horse Comics
Fans of Mike Mignola's Hellboy won't get to see that long-awaited third and final movie from gothic auteur Guillermo del Toro, but a new reboot film featuring the Dark Horse Comics character is in the works. David Harbour, known for playing Chief Jim Hopper on Netflix's Stranger Things, will star in the new R-rated Hellboy: Rise of the Blood Queen, from director Neil Marshall (Game of Thrones), and in a new photo Harbour posted to his Instagram, the actor can be seen getting a mold for Hellboy's signature Right Hand of Doom.
On Monday afternoon, Harbour took to Instagram to post a selfie of him getting his right hand and forearm made up for the new Hellboy movie, which will reboot the character in a different continuity from del Toro's modern cult classics. There isn't a whole lot that screams "Hellboy" in Harbour's selfie: It's just him patiently sitting with blue gunk all over his arm. It hardly resembles what the final, solid Right Hand of Doom will probably look like, which Harbour helpfully threw in for side-by-side comparison.
In Mike Mignola's Hellboy, the Right Hand of Doom originally belonged to Anum, a "greater spirit" who created the Ogdru Jahad, the Dragons of Revelation, who can bring forth the apocalypse. Long ago, Anum sealed the Ogdru Jahad away, which led his fellow greater spirits to destroy him, but his right hand remained preserved and untouched. The Right Hand of Doom eventually wound up with Azzael, the Duke of Hell and Hellboy's father, who gave it to his newborn son to wield as the catalyst for Ragnarok.
See Harbour's Instagram post below.
Among many other traits for Hellboy, his Right Hand of Doom is one of the most crucial pieces for cosplayers to nail down. It's for that reason that cosplay makers on Etsy sell their versions for a pretty penny.
Hellboy: Rise of the Blood Queen is slated for release in 2018.