New 'Hellboy' Movie is Coming, Starring a 'Stranger Things' Actor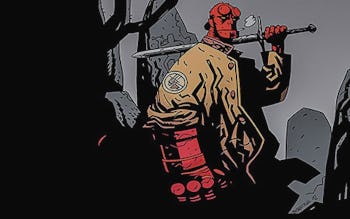 Dark Horse Comics
That's right, rethink everything you thought you knew about the lost chance at a new Hellboy movie, because the comics creator Mike Mignola has just confirmed that it is, in fact, going to happen. But probably not in the way you'd thought: This film won't be a sequel but a remake, with a new team at the helm.
Mignola announced the project on Facebook on Monday. He described it as "an R rated reboot" and noted that it will be directed by Game of Thrones' Neil Marshall and star David Harbour as the demonic comic book hero Hellboy. Harbour plays Chief Jim Hopper in Stranger Things.
Interest in a new addition to the Hellboy franchise was recently piqued when Guillermo del Toro, the director of the first two films, brought up the concept on Twitter. He polled users to gauge their feelings about such a project, and then pitched the idea to the Hellboy creators, only to have it shot down. "Must report that 100% the sequel will not happen," he announced on Twitter. "And that is to be the final thing about it."
Well, it turns out that the creators were interested in making a new film, just not with del Toro. That's gotta hurt, but Mignola was evidently interested in starting fresh. It's been almost a decade since the release of Hellboy II: The Golden Army, so it's understandable to prioritize a new project for a new era. Plus, this film seems like it's going to be dope.
We're all anxious for more details; Mignola indicated that they will come soon.