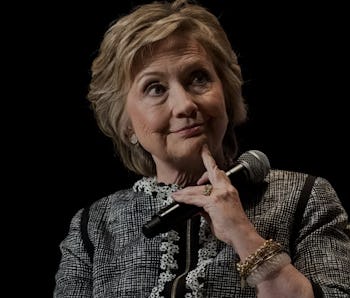 Culture
Hillary Clinton Has Advice For the First Female President
"You are carrying the burden of the double standard."
Getty Images / Drew Angerer
Everything Hillary Clinton went through might just help get the next female president elected — as soon as 2020. That scenario is the "one thing that has given me a sense of hope," best-selling author Cheryl Strayed said to a Manhattan crowd on Thursday, addressing Clinton. The room broke out into applause.
Clinton, who was speaking with Strayed about her upcoming memoir at BookExpo America, smiled but became contemplative at Strayed's next question: What advice did she have for this woman who becomes president?
"You have to be prepared for what it means to be, literally, brutalized," said Clinton. "The things that will be said, and the way you'll be treated comes with the territory. That's not to say that men don't get harsh treatment, or put in the spotlight. But you are carrying the burden of the double standard, and you have to know that."
These issues of sexism and misogyny, Clinton says, will be addressed in her new book even though, as she says, "it may be uncomfortable for some people to read how I experienced it, what I believe about it, but I think that's a conversation we need to have."
Sexism and misogyny aside, Clinton also wants this woman to understand that the intricacies of American politics will make it so that the campaign will be "unlike any experience she has ever had before." The great and terrible part about American politics is that you can decide you want to be president, start from scratch, and convince enough of the country to give you their vote. In other countries the parliamentary system means that a candidate is likely voted into office by a small constituency that has come to know them, and then is selected by their parliamentary peers for higher positions.
"Our system in our country," Clinton says, "is the most difficult political environment in the world, of any democracy, to elect a leader."
While her book may serve as a guide to the first female president, Clinton, who will turn 70 in October, says that she hopes that she'll still be around when that person comes to the forefront.
"It will be my great privilege to be able to say, 'Okay, I'll give you my best experience and advice,'" says Clinton. "But everybody has to find her or his own way, and I hope that will be sooner instead of later."