Hillary Clinton Says Her New Book Is Her 'Emotional Catharsis"
This book, she says, is good for her 'mental health.'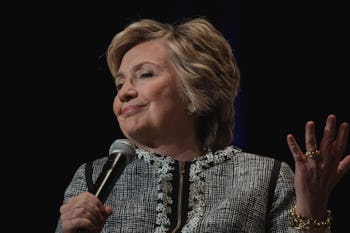 Getty Images / Drew Angerer
Nearly six months have passed since crowds waited in vain for Hillary Clinton to take the stage at the Javits Convention Center in New York and accept the nomination to become the first female president. That, as is obvious now, never happened but Clinton did return to Javits on Thursday to discuss the beautiful, painful, and wacky parts of the election as well as her plans for the future.
Addressing a Manhattan-based crowd attending BookExpo America, the largest annual book trade fair in the United States, Clinton dove into her own emotions and political journey, she said because "the experience and the choice we face in the future demand that I go as far as I can."
Due to be published this September by Simon & Schuster, Clinton's book, she says, will be her most personal memoir yet.
"The book for me is a really, personal deep experience, and I also have to say an emotional catharsis," says Clinton.
Clinton says that she decided to write the book after going through a constantly-updated book of quotations that she keeps, which prompted her to reflect on the country, her life, and what happened in the election. She knew that she wanted to tell a story about resilience, while also offering to readers what was going on in her mind as the country watched her wage her campaign.
"Part of the motivation is that not only is it [writing the book] good for my mental health, but I think it is also really important that we come to grips with what we need to do in the future as a country," says Clinton.
Resilience was a theme throughout Clinton's talk, but also pain. She discussed how she had obviously lost campaigns before, but had never felt the sort of pain she experienced after this election. Clinton surmised it was because of a swelling of simultaneous factors: The interference in the election by, as she said, "Russians," the choices she knew would be made by the current administration; her concern about the "unleashed vitriol" that emerged after President Trump was elected.
But she also had to deal with the specific pain of reflecting on something you can't change. When asked by moderator and best-selling author Cheryl Strayed what the most challenging parts of writing were, Clinton replied that "really there are so many parts."
"One is the really painful experience of honestly understanding what I can do well, what I didn't do well enough, and what our shortcomings were," Clinton says about reflecting on her campaign. "Where we missed an opportunity, what we didn't do — in retrospect, what might have worked better. And that's obviously painful."
But Clinton is also happy to dish up the dirt on what it was like to go toe-to-toe with Trump.
"This is my truth"
"This is my truth," says Clinton. "This is how I experienced being the first woman to break that barrier, get nominated, stand on the stage for debates, and deal with all the incredibly, odd, bizarre happenings that were around — I'm very clear on that. . .I'm going to tell you how I saw it, what I felt and thought, because you can not make up what happened."
Clinton was also clear to the crowd that while she doesn't have a specific plan for the future, she also doesn't plan on disappearing any time soon.
"I'm going to do everything I can to support the Resistance," Clinton announced to the crowd, who broke out into whooping calls and applause.