With Comics, Panda Express Celebrates Asian-American History
DC Comics writer Gene Luen Yang explores obscure Asian-American pop culture history in a comic from Panda Express.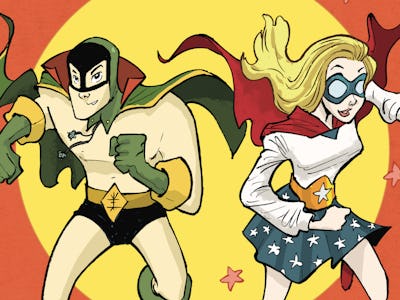 This past May, to commemorate Asian American and Pacific Islander Heritage Month, kids who ate at Panda Express enjoyed a special issue of Gene Luen Yang's Shadow Hero Comics. Upon first glance, the comic, which features a new adventure with the obscure pulp hero the Green Turtle, seems like an odd choice to excite kids about fast food. But since the Green Turtle was one of the first Asian-American superheroes in pop culture, the acclaimed author and MacArthur Genius recipient jumped at the chance to introduce kids to a heroic part of Asian-American history.
It all began last summer at Chinatown Summer Nights, an annual festival held in Los Angeles by Panda Express. Yang, who is best known as the comics writer of American Born Chinese and DC's Action Comics and New Super-Man, was invited to join a panel of Chinese-Americans in other industries. "That was the first time I got to hang with the folks at Panda," Yang tells Inverse, who said the festival was eye-opening to him about the restaurant franchise. "They're starting to get involved with Asian-American issues. As an organization, I was really impressed."
The restaurant began eyeing May 2017 as another opportunity to contribute to the culture. To celebrate Asian American and Pacific Islander Month, the restaurant wanted to do a giveaway for its kid's meals — the first in its entire history. After several ideas, the company decided a comic book with Yang was the way to go. "That's what I do, I do comics. But the fact that it's something you read is astounding," says Yang, which is unlike the toys usually released by other major fast food joints. "As I got to know [Panda Express] as an organization, it made sense to me. They're not about food, they're about promoting social good. So to give away a comic book that encourages kids to read fit."
But Yang was faced with a challenge: Without assistance from either Marvel or DC, what comic book could Panda Express possibly publish? As it happened, inspiration would come from more than 70 years ago.
In 1944, Chu F. Hing, a Chinese-American who studied at the Art Institute of Chicago, created the superhero, the Green Turtle, for now-defunct publisher Blazing Comics. Legend has it that Hing was forbidden to portray his creation as a Chinese-American like himself. "We don't know if it's true or not, but it's so interesting to me," Yang says of the rumor. Supporting this theory is how Hing obscured his protagonist's face with deep shadows and masks, which Yang finds resonant. "I felt like it was a good metaphor for how Asian-Americans and minorities feel. We're obscured in the shadows."
No one remembers the Green Turtle, nor is Hing spoken with the same reverence as Stan Lee or Jack Kirby. But Yang has led the modern day revival of the character's recognition. In 2014, Yang teamed up with artists Sonny Liew and Janice Chiang for The Shadow Hero, a graphic novel that gives the important but forgotten character his long overdue origin story. Now, Panda Express wants kids to meet the Green Turtle too.
"I was super excited about it," Yang says of the comic. "Most fast food companies use characters like Spider-Man to promote their product. But Panda Express, their first outing is the Green Turtle, who is about as obscure as a comic book character as you can get. It's still hard for me to believe."
While the comic is light and fun (you know, for kids), Yang and his team — reunited from The Shadow Hero — still wanted the book to mean something. In the issue, the Green Turtle encounters a new hero on the block: Miss Stardust, an all-American blonde superhero who looks like a star-spangled cheerleader. Besides offering a gender balance to the book, Yang wanted to explore the idea of "foreignness" and othering. (Spoilers: Miss Stardust reveals herself as an alien, like Superman's Kryptonian heritage.)
"I think superheroes as a genre is deeply American," explains Yang, who last year introduced Kenan Kong, China's Super-Man, to the DC Universe. "Superheroes came into prominence as America came into the world stage. Superheroes are American mythology, and as Asian-Americans we struggle with foreignness regardless whether we were born here simply because of the way we look. When I discovered the Green Turtle, who dates back to the very beginning of this genre, and [learned] this character might have been an Asian-American, there was a real feeling of affirmation that we might have always been there."