'Superman' Writer Gene Luen Yang Wins MacArthur "Genius" Grant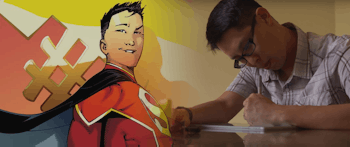 DC/John D. & Catherine T. MacArthur Foundation
Acclaimed graphic novelist — and the current writer of one of DC's flagship Superman series — Gene Luen Yang was awarded a prestigious MacArthur "Genius" Grant this week.
"Yang is leading the way in bringing diverse characters to children's and young adult literature and confirming comics' place as an important creative and imaginative force within literature and art," the John D. & Catherine T. MacArthur Foundation said of their latest honoree.
The 43-year-old is best known for his 2006 graphic novel American Born Chinese, which follows a young Chinese boy as he attempts to assimilate in the U.S. and come to terms with his two cultures. Yang also wrote and illustrated Boxers and Saints, which tells the tale of China's Boxer Rebellion at the turn of the 20th Century. Those two works earned Yang an ambassadorship to the Library of Congress and widespread critical acclaim.
Yang is currently writing the ongoing DC comic New Super-Man, about a Shanghai teenager who is granted the powers of the Man of Steel and joins China's equivalent of the Justice League. One of the main themes of the series is exploring what, exactly, truth, justice, and the American way mean in modern China.
Initially, Yang was reluctant to accept DC's offer for him to write their first Chinese Superman story, fearing that as a California-born Asian-American, he wouldn't be able to authentically write about the native Chinese experience. Eventually, though, he agreed, largely because he couldn't pass up an opportunity to diversify comics with a story starring an Asian lead. "Stories are a way of saying, 'This experience is important,'" he told Inverse's Eric Francisco in an interview earlier this week. "When you grow up not seeing your life reflected, you have a fear that what you're experiencing is unimportant."
Yang's take on Superman is, in addition to being a fun superhero romp, a nuanced and unflinching look at modern China, albeit through a somewhat fantastical lens.
"In the very first issue, I dropped the D-word, "Democracy" just to see what would happen," Yang said, noting that DC Comics approved of his direction.
In his interview with Inverse, he compared China's state-sanctioned version of the Justice League to the country's real-life handling of religion. When the communists came to power, they realized that banning Catholicism, for instance, would just drive worship underground, so the state set up an "official" church, though a thriving underground church still persists to this day.
"At first the government's response was to suppress them, and they realized they can't," Yang said. "What they're doing is creating state-approved superheroes. That's the Chinese Justice League."
Yang was one of 23 fellows from varying backgrounds who were honored with "Genius" grants this year. The artists, writers, scientists, and nonprofit leaders who receive the grant are awarded $625,000, distributed over five years, to better the world as they see fit.