Smog-Scrubbing Bicycle Mounts Introduced for China
A screen on the handlebars will blow clean air at the rider.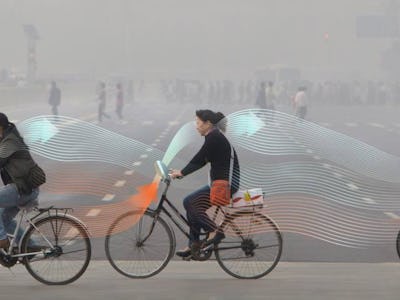 Studio Roosegaarde
A Rotterdam-based designer hopes to turn every bicycle into a rolling, personal smog scrubber. Daan Roosegaarde introduced his design for a smog-cleaning bike, thanks to a screen mounted on the handlebars, last week.
Though it's being proposed in China, this kind of innovation would be important in cities around the world, Roosegaarde says. London, Los Angeles, and even Boise, Idaho are often coated in a toxic mix of water droplets and small particles emitted from construction or transportation. Ingesting large amounts of this slick dust (which you necessarily do while walking and biking) is linked to a number of respiratory illnesses and even heart disease. Each year, air pollution like is linked to as many as 7 million deaths globally.
"Living in the city of Beijing is the equivalent of 17 or 18 cigarettes a day, without the pleasure of the nicotine," Roosegaarde tells Inverse.
By offering Beijingers a smog-busting solution, Roosegaarde hopes to further encourage China's return to biking and prove the concept can work in other cities. "Basically for me, it's about designing to improve life," he says. "How can we use creative thinking and technology to improve the environment and live better?"
See also: Smog-Filtering Scarf Makes Biking in Cities Easier, Looks Cool
Roosegaarde isn't the only group trying to bring bikes back, in China or elsewhere. Superpedestrian is one of several electric bike companies, along with Zero Motorcycles, APWorks, and even Ford, that hope to transform drivers into bikers. When charged on clean energy, these electric bike efforts offer carbon-free two-wheeling, if not smog-vacuuming attachments.
Superpedestrian's founder Assaf Biderman is the inventor of the Copenhagen Wheel, which can be added to your existing bike for about $1,500. When fully charged, the battery goes 30 miles, which is farther than the average urbanite commute. This allows commuters the comfort of knowing they can switch to biking, but still have the power of the battery to rely on after an incredibly draining trip.
Roosegaarde and Biderman's both believe in rolling out technology as its developed and improving their ideas over time. "I think it's the role of the art and the designer to trigger ideas and trigger imagination and work with the designer to make it happen," Roosegaarde says. "A lot of the science is there, but it's hidden in drawers in universities and my job is to activate it."
Though the smog-busting bike is only a concept at the moment, Roosegaarde believes he's shown the impact of his eco-sensitive design before.
This past fall, his team installed a Smog-Free Tower in China that pulls in pollution using positive ionization to clean adjacent air. The latest research suggests the tower successfully reduces fine particulate matter by about one-fourth within a circle stretching over 65 feet in diameter around the tower.
Ultimately, Roosegaarde's smog-busting efforts are exciting and, crucially, backed by China's central government. But the studio still has work ahead. The cost of building the smog tower is unclear and the bike, still in early stages, has no price, either.