Ford's New Super Bowl Ad Focuses on Electric Cars, Bikes, and Ride-Sharing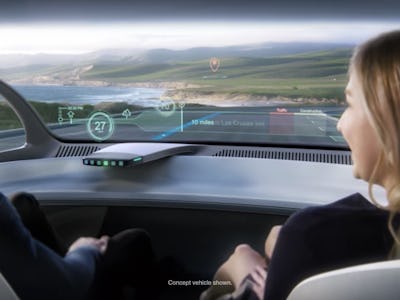 Ford Motor Company
Ford's new ad for Super Bowl LI is full of hints towards the company's work in across different kinds of transportation, not just the flashy new car. Instead, Ford is working to get you to associate the brand with things like electric cars, bikes, and ride-sharing.
For a 90-second ad with the tagline "Go Further," Ford spends the first 60 seconds highlighting people being stuck in a variety of situations. The last 30 seconds finally bring in different Ford branded items to save the day for a number of the stuck humans, including Chariot, autonomous parking, electric cars, Ford bikes, and the Ford GT sports car. However, none of these innovations help the poor cat with a box stuck on its head.
One of the first obvious innovation teases in the ad is an autonomous car parking itself. Ford has been talking about releasing fully autonomous vehicles in 2020, and has tripled its test fleet of autonomous prototypes for 2017. These autonomous vehicles will also be hybrid-electric vehicles, and won't have pedals or a steering wheel either – as seen at the very end of the Super Bowl ad.
Also featured in the Super Bowl spot is Ford's GoBike – a branded bike-sharing program in the Bay Area that launched this year and will have 7,000 bikes in the program by 2018, says Ford. Chariot, Ford's other ride-sharing platform in the Bay Area that's featured in the ad, is getting almost six seconds of screen time as one rider hails a Chariot on their phone and then jogs over to the Ford branded van. Chariot will be expanding to six new cities in 2017.
There is an electric car charging up in a short spot towards the end of the ad, giving a more explicit nod to Ford's electric vehicles. Ford clearly wants to be associated with the big four innovations of ride-sharing, electric vehicles, bike sharing, and autonomous cars, and not its old standbys, like fast cars and muscle trucks.
However, there are still a few nods to the past. The first shot of Ford "going further" is the old standby, the Ford F150 pulling a car out of a snowbank – so the best-selling car in the United States for the last 35 years hasn't gone anywhere. We also get a glimpse of the wickedly fast Ford GT before the ad ends. But for the Super Bowl, Ford is going further.