Ford Announces "Bigger, Faster" Expansion for Chariot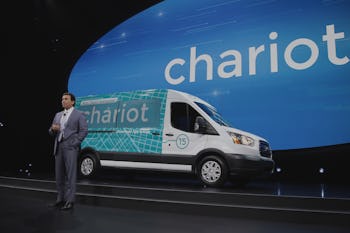 Getty Images / Scott Olson
Ford announced an accelerated plan to expand its ride-sharing service Chariot to six more cities this year, including one city outside the United States.
"This is a bigger, faster expansion plan than the one we laid out just a few months ago," Ford CEO Mark Fields said during his presentation at the Detroit Auto Show.
Chariot, which currently operates in San Francisco and Austin, specializes in short, intra-city trips, using 14-passenger Ford transit vans called "chariots" driven by "Charioteers." It's kind of like a hybrid between taxi and bus services. It's on-demand transportation that aims to be also cost-effective and reduce congestion. Ford says a private study by conducted by KPMG found that each shuttle could reduce congestion by up to 25 fewer vehicles.
Chariot was a San Francisco-based start-up and Ford announced the purchase in September. The service crowdsources its routes based on rider demand, and it's working to use data algorithms to map the most efficient routes. This helps commuters who aren't well-served by current public bus routes and local trains. The Bay Area has the second-worst traffic congestion in the nation, after Los Angeles. Bay Area commuters spend 143 more hours driving each year because of traffic.
"We're introducing even more new vehicles and technologies to make life better for millions of people in the near term, plus we're presenting a vision and partnering with cities to move more people even more efficiently in the future," Fields said.
Ford did not yet announce which cities will partner with Chariot.
In addition to expanding Chariot, Ford has plans to create a hybrid autonomous vehicle to use for ride-sharing by 2021.