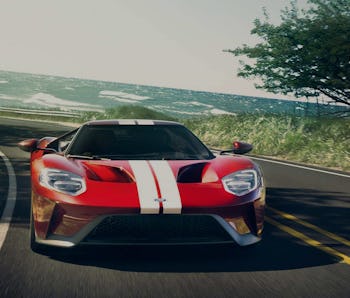 Innovation
Aerodynamic Physics and a Monster Engine Make Ford GT the Fastest-Ever
Ford
The new 2017 Ford GT is being touted as the fastest production vehicle Ford has ever made, having achieved a blistering 216 mph maximum speed. The car, which is optimized for track performance (and whose sleek design looks the part) is able to go so fast because of some special, high-speed engineering, Ford confirmed.
In a Tuesday announcement, the motor company revealed that the new ride boasts 647 horsepower and 550 lb.-ft. of torque — the highest output of any EcoBoost production engine Ford has ever made. The previous record holder was the Ford Raptor, which only had 450hp and 510lb-ft of torque, according to a representative.
In an October test at Canada's Calabogie Motorsports Park, the Ford GT bested the McLaren 675LT and Ferrari 458 Speciale in the same conditions with the same driver. The Ford GT finished with a time of just 2:09.8, while the McLaren and Ferrari finished with marks of 2:10.8 and 2:12.9, respectively.
Before the Ford GT, the fasted production car the company made was the 2005/06 Ford GT, which reached a top speed of 205 mph.
In addition to a powerful engine under the hood, the body of the Ford GT was designed with serious aerodynamic physics in mind. The car has aerodynamic openings up front that can open and close, and it has a deployable rear wing. Combined, these two features maximize downforce, which improves high-speed handling, the rep explained to Inverse.
This speedy car only weighs a hair over 3,000 pounds, which puts it somewhere in the middle between the McLaren and Ferrari.
"The Ford GT is all about performance," explained Raj Nair, Ford's executive vice president of global product development and chief technical officer, in a statement. "We achieved considerable weight savings with the carbon fiber architecture. We then reinvested some of that savings into where it counts most – performance, specifically, the active dynamics. The result is an even faster car."
He ain't kidding.