Smog-Filtering Scarf Makes Biking Through Cities Easier
Air filtration never looked so good.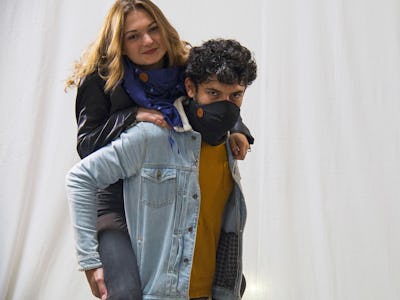 Fast Coexist 
For people who live in cities with higher levels of air pollution, even daily commutes can be an unhealthy hassle. To combat this problem, French startup Wair has created a smog-filtering scarf to keep people protected. It's a product that might just prove its worth as cities and metropolitan areas become smoggier.
Wair was founded by Caroline van Renterghem, a fashion worker from Paris who grew tired of dealing with smog each morning. Fast Coexist reports, "Two years ago, while on her daily bike commute to a fashion job in Paris, Caroline van Renterghem had to stop: She was struggling to breathe." The degree of air pollution in Paris was making it difficult to manage her bike ride. Standard air filtration masks didn't cut it, either, as they often can't catch the tiny particulates that make up urban smog.
The garment from from Wair is worn as a scarf and then pulled on over the face like a mask when going through areas with higher levels of pollution. It's equipped with "a tiny turbine [that] blows air through a filter that can catch virtually all microparticles" and charged via USB. An app tips wearers on lesser polluted routes, sending a notification when the wearer enters a smoggy area and telling them to pull up the scarf. Plus, they come in different styles and colors. That's fashion with function.
Smog is becoming a reality for more people in cities like Paris and Mexico City, where air pollution rates have reached harmful levels.
The introduction of Wair into the market comes at just the right time. Even as more steps are being taken around the world to fight climate change, air pollution in cities doesn't appear to be going away any time soon. In 2016, researchers estimated that 6.5 million people die each year as a result of fixable air pollution. With those grim statistics as a backdrop, products like Wair may prove to be lifesaving.
For bikers like van Renterghem, it means no more gulping dirty air as they're coasting down hills or cutting through alleys. But as forward-thinking as Wair is, its existence is in many ways a sad reflection of the fact that that air pollution efforts aren't having substantial effects. If things don't get better and initiatives like the Paris Climate Agreement crumble, innovations like Wair could become more necessary. Wair is currently available for pre-order on its website and is priced between 60 and 90 euros.