Everything We Know About 'The Flash' Season 4
Where does 'The Flash' go after Savitar?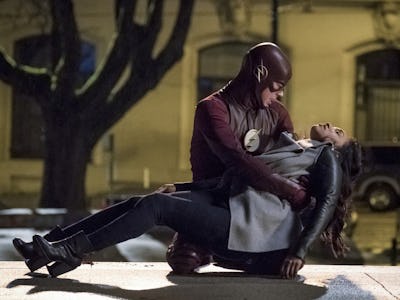 The CW
There's no rest for the fastest man alive. After vanquishing Savitar in the Season 3 finale of The Flash, Barry Allen (Grant Gustin) gave himself to the Speed Force to prevent it from collapsing all over Central City. Sacrificing a life with his true love Iris West (Candice Patton) and leaving Wally West to become the new Flash, Season 4 will no doubt be different than even last year's setup with the alternate Flashpoint timeline, which went by just a little too quickly.
The Season 4 premiere of The Flash won't arrive until the fall, but already there are hints and clues as to what S.T.A.R. Labs will look like upon the show's return. Here are three things we know — and are confidently guessing — about The Flash Season 4.
It Will Premiere This Fall
Season 4 of The Flash will premiere on Tuesday, October 10, at 8 p.m. Eastern.
The CW made the announcement on June 8, along with the premiere dates for the three other Arrowverse shows, Supergirl, Legends of Tomorrow, and Arrow. Those shows will premiere on October 9, 10, and 12, respectively. Supergirl will also air at 8 p.m., while Arrow and Legends will start at 9 p.m., with Legends kicking off right after The Flash on Tuesdays.
And We Have a Plot
Here's the official synopsis from The CW:
Barry Allen (Grant Gustin) lived a normal life as a perpetually tardy C.S.I. in the Central City Police Department. Barry's life changed forever when the S.T.A.R. Labs Particle Accelerator exploded, creating a dark-matter lightning storm that struck Barry, bestowing him with super-speed and making him the fastest man alive The Flash. But when Barry used his extraordinary abilities to travel back in time and save his mother's life, he inadvertently created an alternate timeline known as Flashpoint; a phenomenon that gave birth to the villainous speed god known as Savitar, and changed the lives of Caitlin Snow (Danielle Panabaker) and Wally West (Keiyan Lonsdale) forever. With the help of his adoptive father, Joe West (Jesse L. Martin), his lifelong best friend and love interest Iris West (Candice Patton), and his friends at S.T.A.R. Labs — Cisco Ramon (Carlos Valdes), C.S.I Julian Albert (Tom Felton), and an Earth-19 novelist named H.R. Wells (Tom Cavanaugh) — Barry continues to protect the people of Central City from the meta-humans that threaten it. Based on the characters from DC, The Flash is from Bonanza Productions Inc. in association with Berlanti Productions and Warner Bros. Television, with executive producers Greg Berlanti, Andrew Kreisberg, Sarah Schechter and Todd Helbing.
The Villain Isn't a Speedster, and It Is Probably the Thinker
Back in March, at an event at PaleyFest, showrunner Andrew Kreisberg said that the villain of Season 4 will not be another speedster like the Reverse-Flash, Zoom, or Savitar. "Next season, we're not going to have a speedster as the main bad guy," Kreisberg said at the Dolby Theatre. "The first two seasons were about having fun with his powers, and this season for Barry is really about the pitfalls of having powers, and that's the story we wanted to tell. That's why Savitar was the perfect villain for Season 3."
But just who in the Flash's history will dominate Season 4? Throughout Season 3, including the finale, there have been several mentions of "DeVoe." Even Savitar says the Flash hadn't gone that far yet in the season finale. "DeVoe" is more than likely Clifford DeVoe, also known as the Thinker. Although he's been mainly a Jay Garrick villain since his 1943 debut in All-Flash Comics, he's a vastly different supervillain than previous Flash foes.
The Thinker, a powerful psychic, wore a "thinking cap" — one that resembled the colander worn by Rick Moranis in Ghostbusters — that amplified his abilities. He eventually lost his physical body and lived on as an artificial intelligence with even more power, making him an absolutely suitable villain. This is not only different than Savitar or Zoom, but it poses a unique challenge for Barry Allen and Wally West: What good is super speed against an enemy you can't outrun?
Barry Allen May or May Not Immediately Return
Although it has yet to be confirmed whether or not Grant Gustin will return to The Flash, it's seriously unlikely that The Flash would change its leading protagonist in such a rushed fashion as Barry Allen's departure for the Speed Force in the finale. It's safe to say, for now, that Barry Allen is gone, but he will probably return for the fall. Much like Flashpoint, this may be a temporary scenario that will resolve itself once the show picks up again.
Will Wally West Be the Flash in Barry's Absence?
Whether or not this means a new costume, it's hard to say, but the season finale strongly indicated that Barry left Wally West in charge as the new Flash of Earth-1. The mantle succession is reminiscent of Marv Wolfman's Crisis on Infinite Earths from 1985 in which Barry Allen sacrifices himself and leaves Wally West to graduate from Kid Flash into the Flash. It's too early to tell if Wally will wear a modified version of his Kid Flash outfit or if he'll wear Barry's maroon duds. But one thing is for sure: Central City still has a hero.