'The Flash' Season 4 Synopsis Totally Spoils the Season 3 Finale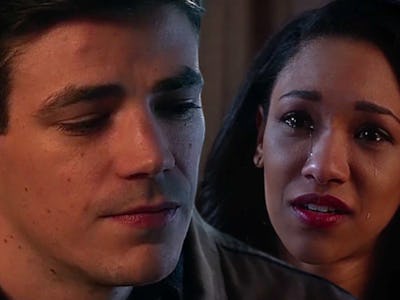 ComicBook.com
Ahead of the Season 3 finale of The Flash, which airs May 23, The CW released an official synopsis for Season 4, and it completely spoils how things will turn out in the battle against Savitar.
Spoilers for The Flash Season 3 finale and beyond follow.
The Flash has been teasing the eventual death of Iris West, budding journalist and lifelong friend of and somewhat recent love interest to the show's protagonist, Barry Allen.
In the end of the previous episode, "Infantino Street," despite the best efforts of Team Flash and even a member of the Legends of Tomorrow, Savitar still stabbed Iris with one of the blades from his suit. The episode's final moments depicted her dying in Barry's arms, fulfilling the causal loop that leads to Barry locking Savitar in the Speed Force after creating a time remnant of himself that would, of course, eventually go on to become Savitar.
But hold up.
The CW officially released a synopsis for The Flash Season 4 along with all its other programming on May 18, and in addition to the usual language about "the fastest man alive" that "inadvertently created an alternate timeline known as Flashpoint," the description also includes the following:
"With the help of his adoptive father, Joe West (Jesse L. Martin), his lifelong best friend and love interest Iris West (Candice Patton), and his friends at S.T.A.R. Labs — Cisco Ramon (Carlos Valdes), C.S.I Julian Albert (Tom Felton), and an Earth-19 novelist named H.R. Wells (Tom Cavanaugh) — Barry continues to protect the people of Central City from the meta-humans that threaten it.
So, despite Iris definitely dying at the end of the penultimate episode of the season, it appears that she'll be resurrected in some fashion by the end of the Season 3 finale so that she'll be back for Season 4. That, as Black Girl Nerds points out, is against comics canon.
We'll find out how exactly that happens when the Season 3 finale of The Flash airs May 23 at 8 p.m. Eastern on The CW.
"You May Also Like:"
When Will 'The Flash' Season 3 Be on Netflix?
The 5 Biggest Questions for 'The Flash' Season 4
Is Barry Dead or Will He Return in 'The Flash' Season 4?