Rihanna and Lupita Nyong'o Twitter Meme to Become Real-Ass Movie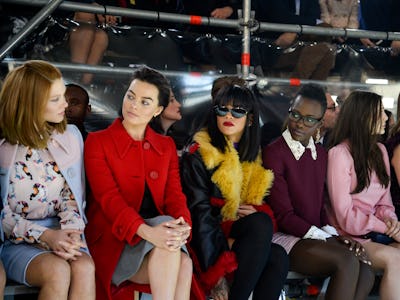 Getty Images / Pascal Le Segretain
The year is 2017, and a popular meme about a fake movie starring Rihanna and Lupita Nyong'o has just been acquired by Netflix. Ava DuVernay is directing, Issa Rae (Insecure) is writing, and the internet is losing its collective mind.
On Monday afternoon, Entertainment Weekly reported that "multiple sources" confirmed Netflix has acquired the untitled project following "aggressive bidding" of an idea based on a tweet from user @1800SADGAL, an 18-year-old college student. In April of this year, a 2014 photo of pop sensation Rihanna and Oscar-winner Nyong'o — who will star in Marvel's Black Panther next year — sitting together at the Miu Miu fashion show resurfaced on Twitter. @1800SADGAL quoted the tweet (which came from another user, @blaquepink) with the caption: "Rihanna looks like she scams rich white men and lupita is the computer smart best friend that helps plan the scans." [sic]
The tweet generated attention, racking up over 97,000 retweets and 208,000 faves, as of this writing, on the social media platform. The tweet with the fake logline eventually caught the attention of the stars in question. Nyong'o tweeted "I'm down if you are" and tagged Rihanna, who replied, "I'm in Pit'z."
Fans following the conversation then tagged in director Ava DuVernay (Selma, A Wrinkle in Time) and writer Issa Rae (HBO's Insecure) to work on the project. Both responded with GIFs, because that's Twitter. And that was the end of that, until now, because there's a real-ass movie in development. Bless the internet.
It's unknown if any of the Twitter users who came up with the idea and tagged the talents will be given writer credits or compensation. They haven't confirmed one way or another on Twitter.
See the tweet that started it all below:
Here's @1800SADGAL, tweeting shortly after news about the movie.