Crazy-Stacked "Black Panther" Cast's Roles Revealed at SDCC
Michael B. Jordan, Lupita Nyong'o, and Danai Gurira all join the MCU.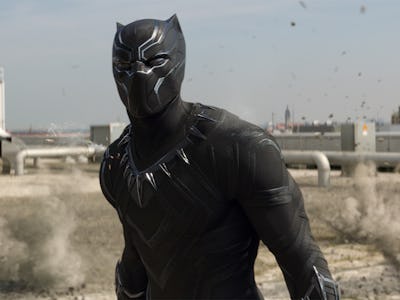 Marvel Entertainment
Chadwick Boseman's Black Panther was one of the most explosive parts in Captain America: Civil War, and in 2018 Marvel will let the Wakandan prince prowl solo in Black Panther, with hotshot Creed director Ryan Coogler at the helm.
At the Marvel Studios panel on Saturday evening, the film's supporting actors — Lupita Nyong'o (12 Years a Slave), Michael B. Jordan (Creed), and Danai Gurira (Michonne in The Walking Dead) — revealed their roles in Black Panther.
Nyong'o will take on Nakia, a formidable warrior from the Dora Milaje, the royal guard and wives-to-be to Wakandan royalty. One of the Dora Milaje was seen in Civil War, standing against Scarlett Johansson's Black Widow before Boseman's T'challa dismissed her.
Michael B. Jordan, meanwhile, will be playing Erik Killimonger, a super-villain from Wakanda. His extensive training makes him a formidable opponent for Black Panther. He made his print debut in Jungle Action #6 in 1973.
Danai Gurira will also be in Black Panther as Okoye, another of the Dora Milaje who debuted in Black Panther #1 (Vol. 3) in 1998.
Black Panther's impressive cast — featuring some of the industry's best up-and-coming black actors — is one of the most exciting in a long time, especially given the level of blockbuster Marvel produces. In a year of #OscarsSoWhite, it's kick ass to see superheroes pick up where the rest of Hollywood is slacking.
Marvel will release Black Panther on July 2, 2018.