Rihanna Teases Her 'Star Trek Beyond' Single for Monday Release
Rihanna's new single is titled "Sledgehammer".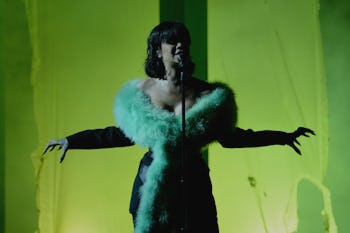 Getty Images / Kevin Winter
After a listing on iTunes revealed Rihanna will be on the upcoming Star Trek Beyond soundtrack, we now have some more details. We have a title, at least: the singer posted a video teaser for her single, "Sledgehammer", on her Instagram page.
The Instagram video culminates in an image of the singer made-up to look like the new alien race in Star Trek Beyond, and the words "Sledgehammer" forming above her. She commented on the video telling her followers that she has something for them tomorrow. Attentive fans managed to dig out an old Tweet of her's, in which the singer posted what seems like lyrics, one of which contains the word "sledgehammer". The tweet dates back to 2014, which indicates that this song may have been written as many as two years ago.
Rihanna's most recent headline involves her likeness being used in Kanye West's music video for "Famous", which features nude lookalikes of various celebrities and media personalities. That video caused quite a stir for some of its controversial content, and is now infamous for that reason.
Star Trek Beyond is the newest film in the rebooted Star Trek movie series following J.J. Abrams's Star Trek Into Darkness. The new film features the recurring crew of the USS Enterprise, as well as Sofia Boutella and Idris Elba who join the cast in new alien roles. Fans will have to wait until Monday to see whether or not "Sledgehammer" drops online or in some other form. Star Trek Beyond will release July 22nd.