How to Watch Kanye West's 'Famous' Video
The Tidal exclusive can be found elsewhere online.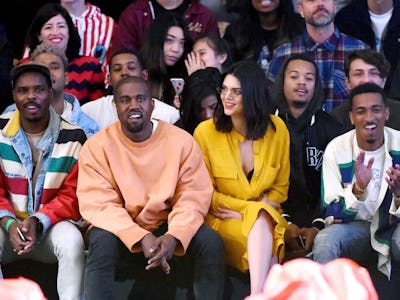 Getty Images / Kevin Winter
A live audience at the Forum in Los Angeles on Friday night was the first group to see one of Kanye West's most provocative and controversial works of his career. A five-minute 48-second video showed a host of celebrity likenesses in a single bed, including his wife Kim Kardashian, Taylor Swift, Rihanna, Donald Trump, and Bill Cosby, among others.
It's the kind of video the internet goes crazy for, demanding your attention. In fact, the music for "Famous" cuts off after two minutes, 20 seconds, and leaves you with nothing to do but just stare at the naked bodies laying around.
Unfortunately, the live-streamed video is exclusively playing on Tidal. And if you're like the thousands who signed up for the free trial when Beyonce launched Lemonade, or when Kanye first debuted The Life of Pablo, that free trial is long gone.
Thankfully, the good people of the internet have stepped up with a slew of fan videos, capturing the live premiere in Los Angeles.
There's this Twitter video circulating, which gives you the gist, but it ultimately cuts out the big Bill Cosby reveal at the end.
YouTube has been flooded with knock-off videos, reactions, and analyses of all the celebrities featured, including Ray J, Amber Rose, Donald Trump, George Bush, Caitlyn Jenner, Bill Cosby, and Anna Wintour.
The video recreates Vincent Desiderio's painting "Sleep," which debuted at Manhattan's Marlborough Gallery in 2004 but was not fully completed until 2008.
Kanye also exclusively talked with Vanity Fair about the event. Here's a full version of the video – for as long as it remains on Vidme, anyway.