Kanye Streams His Latest Video, Parodies a Painting with Naked Trump and Taylor Swift
Kanye West released the video for 'Famous' on Tidal to a live audience, and fan response has hit a stark divide on social media.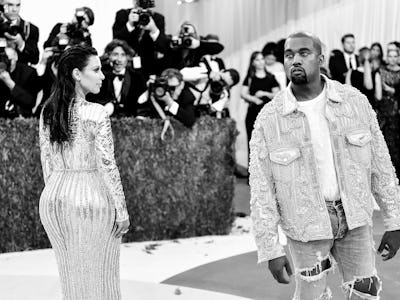 Getty Images / Mike Coppola
Kanye West continued to expand his streaming Life of Pablo album today, hosting a special event in Los Angeles and broadcasting it live, through TIDAL. The video for Famous is the album's first, and it's already sparked leagues of controversy online.
The video opens with a shot of Kanye in wax-figure format, naked. The shot widens and reveals notable figures like Kim Kardashian-West, Caitlyn Jenner, Donald Trump, Bill Cosby – and of course, Taylor Swift, who happens to be the subject of the track's not-so-positive opening lines. Needless to say, if you're looking to scroll down, beware of some NSFW imagery.
The shot mimics a painting by artist Vincent Desiderio, "Sleep," but a rising debate over whether the video constitutes "art" is spreading across social media. Other celebrities in the painting include model Amber Rose, Anna Wintour, Ray J, Rihanna, Chris Brown, and George W. Bush. (Kanye previously said that the song was a comment on fame).
There is a divide between those who say the video is a low blow to Swift and Amber Rose, while others argue its validity as a statement about modern celebrity.
The video and Kanye West's Life of Pablo album can both be found on TIDAL. Life of Pablo is also now available on Apple Music and iTunes. The video is another precursor to West's Saint Pablo tour, which will likely have a very edgy kick-off show in Indianapolis on August 24th.
The screening in Los Angeles took place at the Forum, and alongside Kim, other related names including French Montana and Scott Disick were in attendance. West has scheduled a second screening on Ticketmaster, for anyone who would like to pay for such a thing.