We Must Protect Eddie Vedder! Grunge Fans Single Out Pearl Jam Singer
Grunge fans are mourning the loss of another icon and clinging to the only one who's left.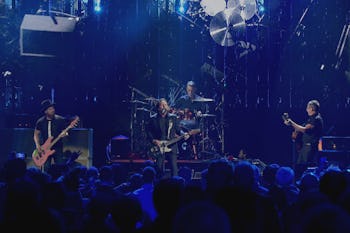 Getty Images / Mike Coppola
With the death of famous four-octave vocalist Cornell, the pantheon of '90s grunge rock singers has dwindled even further, leaving Pearl Jam's Eddie Vedder as the last card-carrying member. Fans of the genre and its fallen heroes are manifesting their grief by showing some love to Vedder in the form of facetious — and painfully honest — calls for him to be protected at all costs.
Most prominent among the deceased musicians being remembered on Twitter and other social media, alongside Cornell, are Andrew Wood, Kurt Cobain, Layne Staley, and Scott Weiland.
Andrew Wood
Andrew Wood was the first of these grunge giants to go. His death in 1990, at the age of 24, came after he achieved renown success as the singer of bands Malfunkshun and Mother Love Bone, the former of which formed in the same year as Cornell's Soundgarden and the latter of which included some future members of Pearl Jam. Wood, an acclaimed performer, overdosed on heroin on March 16.
Kurt Cobain
Cobain, of course, fronted Nirvana, the quintessential '90s grunge band, and captured the angsty voice of a generation. He was 27 when he died on April 5, 1994 (making him a part of the 27 Club as well), from a self-inflicted gunshot wound.
Nirvana did also give the world Dave Grohl and the Foo Fighters, although they are only seldom packaged with the same group.
Layne Staley
Staley was the lead vocalist and guitarist of Alice in Chains. Despite a successful career with the band, one of the heaviest and closest to metal in the grunge family, Staley departed from public life in 1996. He battled ongoing depression and drug addiction for some time before dying on April 5, 2002 — eight years to the day after Cobain's death — at 34, from prolonged drug use.
Scott Weiland
Weiland was the frontman for Stone Temple Pilots, known for their more radio-friendly hits like "Plush" and "Interstate Love Song." His career was markedly longer than many of his peers, up there with Vedder and Cornell, despite his struggles with substance abuse throughout it. Weiland was 48 when he died of an overdose of cocaine, alcohol, and MDA on his tour bus on December 3, 2015.
Eddie Vedder
Vedder is 52 and still going strong. He was inducted into the Rock and Roll Hall of Fame in 2017 and has had a consistent career with Pearl Jam since 1990, steadily releasing new music. He is also, by all accounts, in good health and without a drug problem. Good news for his fans, who since Cornell's death have been clinging to him as the last of their childhood icons.
For many, the moment is a somber one; a time to reflect on the people who made the music that many millennials grew up with.
Others are just about ready to personally form a security detail for Vedder.
The legacy of grunge has always been a heavy one. That's a fact that Vedder likely knows and feels more acutely than any of his fans. Beneath the humor on the display in recent days, there runs a clear sense of affection for the musician and his cohorts, who helped a generation navigate the troubled waters of their youth.