Chris Cornell's Massive Life in Music, by the Numbers
The singer leaves behind a lengthy musical career.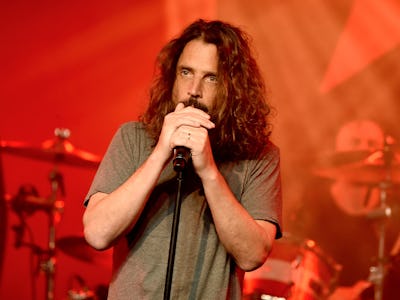 Getty Images / Kevin Winter
Musician Chris Cornell, best known for his work as the frontman of Soundgarden and Audioslave, as well as his successful solo career, died Wednesday night in Detroit. Police said they were investigating the death as a possible suicide. Cornell, at 52, leaves behind a long, successful, and inspirational career in music.
Between his time in Soundgarden, Audioslave, and his solo career, Cornell put up some big numbers in the music industry, as a founder of the grunge movement and beyond.
Soundgarden
Soundgarden was Cornell's first band, formed in 1984 and in which, for the first year, the frontman both drummed and sang. The band disbanded in 1997 and reformed again in 2010, releasing their sixth album in 2012. Over the course of its lifetime, Soundgarden sold 8,766,000 albums, says Nielsen Music in data given to Inverse via email. Superunknown, the band's 1994 album, accounted for more than a third of those sales, with 3,859,000 copies sold.
Soundgarden's most popular, and perhaps most iconic, song, "Black Hole Sun," was purchased digitally 1,044,000 times and streamed on-demand through services like Spotify and Google Play, a whopping 45,406,000 times, part of a total 137,901,000 streams.
Audioslave
Audioslave began in 2001 when Cornell joined the members of Rage Against the Machine, minus Zack de la Rocha. They released three albums together, totaling 5,297,000 sales — a testament to the quality of the music and the loyalty of the fans that both Cornell and Rage Against brought with them into the new group. The band's best seller is their eponymous debut, Audioslave, which has sold 3,547,000 copies, about two-thirds of their total haul.
Audioslave's songs have been streamed almost as much as Soundgarden's — and over a lifespan that's, at most, only half as long. To date, the band has earned 130,828,000 streams. Its most streamed song (and also the song that has sold the most digitally, with 908,000 purchases) is "Like a Stone," which has been streamed 31,751,000 times. It's followed by "Show Me How to Live," with 19,644,000 streams.
Solo Career
Cornell's solo career is interwoven between his stints with Soundgarden and Audioslave. Although it marks the smallest of these three segments of his career he nevertheless found great success in striking out on his own — even recording the theme song for Daniel Craig's first bond movie, Casino Royale.
That Bond song, "You Know My Name," likely owing to the popularity of Casino Royale, has also sold more copies digitally than any of his other songs: 323,000. It's been streamed 3,461,000 times, and also spawned a multitude of covers, including one by the Finnish rock band Poets of the Fall.
Cornell's other solo career successes include "Nearly Forgot My Broken Heart", which was streamed 5,511,000 times — more than "You Know My Name" — and his cover of Michael Jackson's "Billie Jean," purchased digitally 125,000 times. His solo albums sold 802,000 copies.
Taken altogether, those numbers make some pretty impressive stats. Between all three eras, Cornell has sold some 14,865,000 albums and had songs streamed 300,091,000 times. If those numbers tell us one thing, it's that Cornell won't soon be forgotten.