Soundgarden Singer Chris Cornell Dead at 52
Police are say the death was a suicide.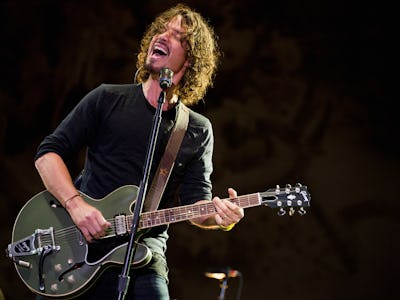 Getty Images / Buda Mendes
Chris Cornell, the singer behind the trailblazing '90s grunge band Soundgarden, died on Wednesday night in Detroit. He was 52.
Early reports on Wednesday morning indicated that police were investigating the death as a possible suicide, and by the afternoon a medical examiner confirmed that Cornell had committed suicide by hanging. A police spokesman told the Associated Press that a friend of the late singer found him dead on the bathroom floor of his hotel room after forcing his way through the door to check on him following a worried phone call from Cornell's wife.
Cornell was on tour when he died. His representative Brian Bumbery gave AP a statement saying the death was "sudden and unexpected." Hours before his death, Cornell played a show at the Fox Theater in Detroit. Before going on stage, Cornell tweeted what would ultimately be his final tweet, excitedly remarking that he was "finally back to Rock City!!!!"
Fans in the crowd filmed a lot of Cornell's final performance, including the hit single "Black Hole Sun," off of the 1994 Soundgarden album Superunknown.
Cornell, who was born on July 20, 1964, in Seattle, was one of the founding fathers of the city's grunge movement. In 1984, he helped found Soundgarden, a band which stands alongside Pearl Jam and Nirvana as icons of the genre. Soundgarden broke up in 1997, but the members came back together for a new LP, 2012's King Animal.
In addition to Soundgarden, Cornell was also the singer for Temple of the Dog and Audioslave, the latter of which he formed with members of Rage Against the Machine. Cornell also released a lot of solo work, and notably provided the theme song for the first of Daniel Craig's James Bond films, Casino Royale.