Is Richard Spencer Speaking at Auburn University Today?
"We don't know. At this point, it certainly seems like he will show up."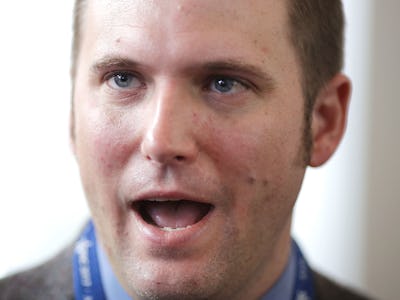 Getty Images / Chip Somodevilla
Richard Spencer, the white supremacist leader who took a punch to the face on Inauguration Day has announced that he still plans to show up at Auburn University on Tuesday even though the administration disinvited him. His bluster already has many up in arms, but will the so-called alt-right leader actually show up?
"We don't know," Corey Williams, Editor-in-Chief of Auburn's The Plainsmen tells Inverse. "At this point, it certainly seems like he will show up."
Why is Richard Spencer at Auburn University?
According to the university, Spencer was never actually invited to speak and was, in fact, paying for the use of the space to be provided. But his plans to visit Auburn did coincide with the emergence of a group at Auburn called the "White Student Union," which was reportedly responsible for distributing anti-semitic leaflets on the campus. Though unconfirmed, it seems likely that this unofficial — and publicly disavowed — student group had some hand in drawing in or asking for Spencer's presence.
As the backlash to Spencer's invitation began to heat up around April 12, the university took steps to distance itself from his message: "We strongly deplore his views, which run counter to those of this institution… We encourage the campus community to respond to speech they find objectionable with their own views," the university announced.
Then, two days later, on April 14, the university, citing public safety concerns in conjunction with law enforcement, canceled Spencer's event "based on legitimate concerns and credible evidence that it will jeopardize the safety of students, faculty, staff and visitors."
Richard Spencer Goes to Court Over Auburn Event
Ever the firebrand, Spencer vowed to turn up anyway, and even asked a court to compel Auburn to let him speak — and it's likely that he does have the weight of precedent behind him. But with or without the help of that court, Spencer vowed, he would speak at Auburn on Tuesday. Spencer's pledge, taken as a threat by many, has incensed people across the internet.
On campus, too, says Williams, there is an air of resistance. "There are plenty of counterprotests planned. From what I've seen, it seems far more students are planning to attend counterprotests than are planning to support Spencer."
An impromptu music festival has been planned and sanctioned by Auburn's administration. Called #AuburnUnites, the festival is a demonstration "against fascism."
One professor even penned a letter to the editor in The Plainsman, calling for faculty and students to ignore Spencer if he does indeed show up. "My advice is to treat Mr. Spencer as you would radioactive waste," he wrote. "Stay away from him. Don't give him your attention, your energy, or your time. Don't let him use you as a prop in his street theater."
In a statement put out on Tuesday](http://ocm.auburn.edu/newsroom/news_articles/2017/04/update-for-the-campus-community-regarding-spencer-event.htm), Auburn reaffirmed the fact that Spencer has been asked not to come. Still, it read, "it is the university's understanding that — despite our requests for him not to attend — Spencer may still appear on Auburn's campus at some point today." The university said it "does not know the specifics of if and when this event might unfold," but cautioned those on campus to remains safe and vigilant and to report suspicious activity to the police.
Even as all that goes on, Williams says that "classes are being held as usual," leaving students, faculty, and staff to carry on with their days under an anticipatory cloud. But one thing is clear: If Richard Spencer does decide to show, he's set to find the farthest thing from a warm welcome.