'ALBUM,' Kendrick Lamar's Next Album, Has a Release Date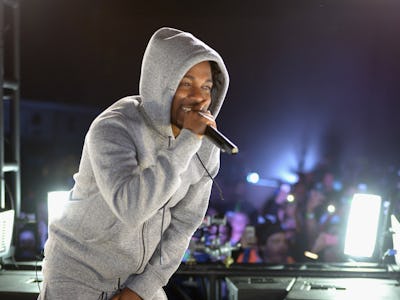 Getty Images / Chris Weeks
When Kendrick Lamar released a new song last month, fans of the To Pimp a Butterfly rapper paid special attention to a line towards the end of the track, "The Heart Part 4." After firing a shot at President Donald Trump, K. Dot instructs listeners, telling them "y'all got 'til April the 7th to get y'all shit together." Naturally, fans thought this meant a new album was coming, and they were pretty pumped up.
Well, April 7 has arrived, and it seems like Kendrick is not going to be releasing an LP. The good news, though, is that we'll only have to wait another week. As Pitchfork notes, iTunes put up the pre-order for the rapper's next album, which is apparently titled ALBUM.
ALBUM — which seems to be following a somewhat similar on-the-nose naming convention to Kendrick's 2016 compilation untitled unmastered. — is his first studio release since To Pimp a Butterfly two years ago. There isn't a tracklist or cover art yet. For now, the image is just a black square and the songs are titled "TRACK 1," "TRACK 2," and so on. It's possible that these are the final titles, but "HUMBLE.", the track that Kendrick dropped alongside a video last week, is included on the tracklist. Presumably, the other song titles are just placeholders, especially since he pulled the same stunt with To Pimp a Butterfly.
BADBADNOTGOOD, DJ Dahi, The Alchemist, 9th Wonder, and, uh, U2 are listed as contributors.
Look for ALBUM (or whatever it ends up being called) when it comes out on April 14.