Kendrick Lamar Calls Donald Trump a "Chump" in a Dope New Song
"Russia need a replay button, y'all up to somethin"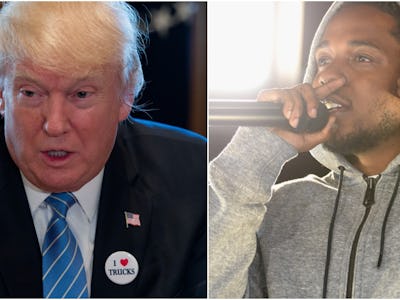 Getty Images
Kendrick Lamar hasn't released any new music since untitled unmastered. just over a year ago, but on Friday the Compton rapper dropped a slick new track. And like most of Lamar's music, "The Heart Part 4" doesn't mess around.
The nearly 5-minute long song doesn't have any features, but it switches up a kicked-back tempo to keep things moving while emphasizing Lamar's considered, complex lyrics. It's a continuation of his "The Heart" series, coming five years after the last installment, "The Heart Pt.3 (Will You Let It Die?)."
The biggest moment in the track comes when the often political rapper sets his sights on President Donald Trump, calling the commander-in-chief a "chump" and alluding to his popular vote loss and alleged connections with Russia.
Donald Trump is a chump, know how we feel, punk / Tell 'em that God comin' / And Russia need a replay button, y'all up to somethin' / Electorial votes look like memorial votes / But America's truth ain't ignorin' the votes
The song ends with a tantalizing tease. "You know what time it is, ante up, this is in forever," Lamar raps. "Y'all got 'til April the 7th to get y'all shit together." Presumably, a new K. Dot album is on the way.
The track is streaming on Spotify, Apple Music, and Tidal. You know, the usual suspects.