The 5 Greatest Songs from Kendrick Lamar's New 'untitled unmastered.' Album
It may be an outtakes project, but it might be a better release than its predecessor 'To Pimp a Butterfly.'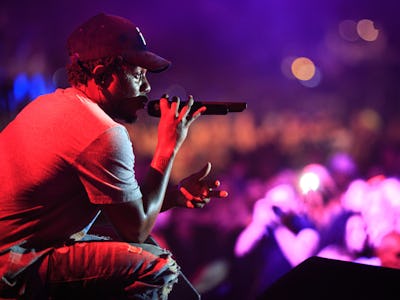 Christopher Polk / Staff
Compton rapper Kendrick Lamar's Grammy-snubbed 2015 album To Pimp a Butterfly is hard to parse. The 80-minute LP was an unwieldy, ambitious force of nature, which inspired unequivocal praise before anyone could have possibly sorted through its endless nuances. It features not just Lamar's typical lyrical veracity and nu-'90s musical sensibility, but epic poetry, knotty jazz combo arrangements, and dense political and sociological tirades that could inspire anyone to burn their high school American history textbooks.
Last Friday's new/old Lamar project — untitled unmastered. — is an ostensible compilation of outtakes from that album's lengthy sessions, and much more concise and immediate. Still, it manages to be nearly as good, if not better, pursuing TPAB's general train of musical thought, but inflecting in a more playful sensibility. Listening to Lamar indulge his strangest, sometimes least typically "hip-hop" ideas here documents what an ungreased, first spark of Kendrickspiration sounds like. More amazing is how naturally these dovetailed, fractured, and incomplete, but soulful bromides make a coherent suite of music.
These songs have enough detail to furnish repeated listening — and are strangely infectiousness despite their often avant-garde leanings. untitled unmastered. makes it clear why and how Lamar's mind works like no one else's in hip-hop at the moment, by stripping away some of its finery. The loose, unfinished nature of these sometimes goofy tracks is often their greatest strength. Here are the five best tracks from the album, which comes highly recommended.
1. "untitled 02 | 06.23.2014."
This track — with its gaunt, eerie production, and Lamar's curious fixation on the breaking point between his chest voice and falsetto — is the album's most visceral and difficult-to-characterize concoction. Its introduction is instantly compelling and unexpected: the mournful speak-song recalls an Alan Lomax field recording (This is not the only point on this album when the reference point feels apt). The rest of the song settles into a Kendrick-ian take on rapidfire trap rapping over a sinister down-tempo beat, courtesy of prolific, Wiz Khalifa-famous producer Cardo. Musically, It's unusually streamlined compared to most of the material from the To Pimp a Butterfly session, and feels almost like Lamar's answer to the musical ethos of Future's recent work: with horse-blinder, triple-time cadence, and muted malice.
2. "untitled 03 | 05.28.2013."
A piece of that notorious TPAB-style call-and-response funk and Lamar's most pyrotechnic rapping, and the rare nu-Kendrick song that sticks to just one basic musical idea. As it was on Lamar's Colbert Report performance, the conversion from potential to kinetic energy in the politically charged, extended verse is the lifeblood of this track. Little rhythmic gestures are added in the background; instrumental breaks and Greek choruses from the backup singers allow Lamar a little room to breathe, and give the song form. Two-and-a-half minutes leaves one feeling just satisfied enough, wanting more — but not like we've been shorted.
3. "untitled 05 | 09.21.2014."
Elliptical soul vocals from Anna Wise and Lamar, a top-heavy breakbeat built — what sounds like warped and well-diced Elvin Jones — and outré gestures courtesy of jazzer Kamasi Washington make "untitled 5" once of the most intelligent, complete-sounding compositions. Washington's long notes melt as Wise sings about drowning. Lamar's most intelligent instinct, as always, is to lock into super-regulated patter — a page taken out of 2pac or UGK's book — over erratic production.
Kendrick's understanding of when to provide balance is his most undersung strength. Maybe we would have rather heard more of the visceral onslaught of his Grammys performance here, and a little less Jay Rock (he and Ab-Soul make this a posse track), but otherwise this is one of the album's finest moments.
4. "untitled 08 | 09.06.2014."
The similarity between this song and TPAB's "King Kunta" has been remarked upon — of course, there are whole West Coast rap albums that work exclusively with this laid-back funk beat. Another DJ Quik-like production from Lamar will always be welcome, and a way of him paying tribute to his geographical background. He always manages to be maximally flexible and humorous in his delivery on this kind of beat; his pitched-up, slightly cloying rapping channels 3stacks, Devin the Dude, Lil Wayne and James Brown all at once. That is to say, it sounds like Lamar at his best and most immutable — only one person can put all that together.
5. "untitled 06 | 06.30.2014."
A brooding Cee-Lo waxes Curtis Mayfield on the opening hook, Smokey and Marvin on the verses. It's the most ambitious and densely arranged track on "untitled unmastered." If these neo-soul musical platitudes don't sound new to you, the track is worth it, largely for Kendrick's brief razor-sharp verse in the middle — the one moment he steps out from playing bandleader to take center stage. It's his most rhythmically exciting moment on the album.