Twitter Really Wants Kendrick Lamar to Drop an Album Tomorrow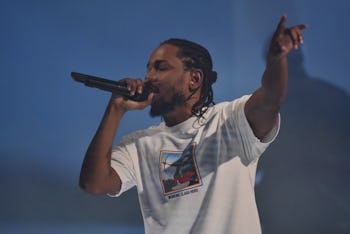 Getty Images / Bryan Bedder
At the end of "The Heart Part 4," a new track Kendrick Lamar put out on March 24, he teased a possible forthcoming album release: "Y'all got 'til April the 7th to get y'all shit together."
As of April 6, the internet doesn't have its shit together.
If the rumors and hype come true, it'll be Kendrick's first studio record since 2015's Grammy-nominated To Pimp a Butterfly. The expectations for his next project are high following Butterfly's success.
While the promise of a new album hasn't been confirmed, it seems pretty likely that K. Dot won't let us down. Twitter doesn't think so, anyway. The anticipation online is palpable, and some users are turning to the only emotional outlet they have left: GIFs.
Some even offered to do things that would compromise their personal values.
Others just came together to pray.
Some took Kendrick's call literally, and sought to get their own lives in order.
So far, all we have is a few new tracks. On March 30, Kendrick released what is likely the lead single off the new album: the wry, catchy track "HUMBLE.," with an accompanying video. It bodes of great music to come tomorrow — if K. Dot comes through.