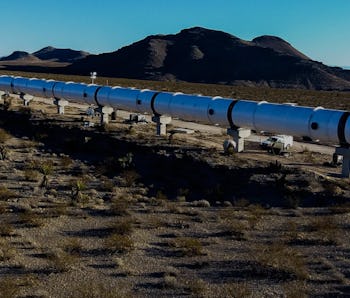 Innovation
Hyperloop One CEO: "We Will Go Underground"
It's no surprise that Rob Lloyd, the CEO of Hyperloop One, thinks Elon Musk's tunnel project, the Boring Company, is a great idea. Musk riffed on it back in January 2016, picked it back up early this year, and hasn't let go since.
While media-savvy Musk grabs headlines for his predictions about tunnels-on-tunnels-on-tunnels, Lloyd and Hyperloop One — the clear front-runner in the race to bring Musk's 2013 hyperloop idea to market — are also tunnel geeks.
"We will go underground," Lloyd told Inverse in Washington, D.C. Thursday, after giving a presentation during Hyperloop One's "Vision for America" showcase, which brought together eleven teams that presented eleven routes in the continental United States as candidates for hyperloop route. A very similar event was held in Delhi in February and there are two more planned for London and Amsterdam later this year; all are billed as showcases of the best proposals in the land for a hyperloop, and many include public-private partnerships.
Some of the routes proposed may go underground, especially in densely packed cities where above-ground real-estate is at a premium or taken.
"If Elon can find a way to build that something that's going to dig faster, cheaper, quicker, that is fantastic," Lloyd said. "And obviously he can see multiple uses for that technology. It's not just about his experience in Los Angeles, but it's a big idea."
A full-scale hyperloop test-run on its "dev loop" track north of Las Vegas will happen "in a couple of months," but Lloyd wouldn't say more much more about the company's self-proclaimed "Kitty Hawk moment."
The technology is still unproven, but Hyperloop One conducted a propulsion test in May on an open-air track. The hyperloop concept involves a depressurized tube in which cargo or people will move at speeds of around 700 mph. The high speed is a result of a lack of air resistance in the vacuumed tube, as well as magnetic levitation that eliminates friction caused by wheels.
Hyperloop developers in the future may be forced underground, anyway, Lloyd said.
"If you think out 50 years from now, we're pretty packed," Lloyd said. "It's getting pretty full. We still need to grow food and we still need agricultural areas. There's another layer of the planet that's beneath us."
Lloyd told Inverse in January that Hyperloop One plans to have three hyperloops in production by 2021. Showcases like the one Thursday in D.C. are an early step toward that goal.