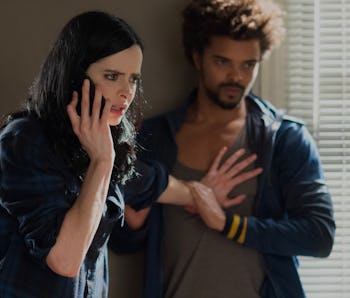 Entertainment
'Jessica Jones' Gets Oscar-Nominated Actress in Mystery Role
Netflix
Some time after the big crossover bash that will take place in Marvel's The Defenders, the team's hard-drinking P.I. Jessica Jones (Krysten Ritter) will resume her Peabody Award-winning solo series on Netflix with its second season. Joining the cast as someone very important to Jessica's life will be renowned British actress Janet McTeer, who was nominated for an Oscar in 1999 for Tumbleweeds and again in 2011 for Albert Nobbs.
Marvel announced on early Thursday morning that McTeer will join Season 2 of Jessica Jones as somebody "who will have an enormous impact on Jessica's life." The identity of her role remains under wraps, but the show's social media team shared the news on Twitter with the tweet: "Raise a glass to my new neighbor." Seems like Jessica will meet a newcomer to her beat-up apartment building, if the Twitter account is being literal. Fans on Reddit speculated that McTeer's character might have something to do with IGH the shadowy organization behind Jessica's powers that looks like it'll be hugely important in Season 2.
The Marvel Universe isn't the first genre sandbox McTeer has landed herself in. She appeared in the gothic horror movie The Woman in Black in 2012 and played Edith in The Divergent Series: Insurgent in 2015. She was also the narrator in Disney's live-action fantasy Maleficent. But Jessica Jones marks her first appearance not only in the MCU, but in a high-profile superhero property.
Work on Jessica Jones Season 2 is underway, and The Defenders will premiere on August 18, 2017.