'The Jungle Book' Makes $103 Million at the Box Office, Disney Nostalgia Wins
It's a testament to familiar narratives and groundbreaking CGI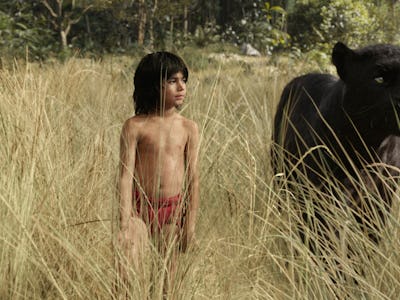 'The Jungle Book'
The Jungle Book's groundbreaking CGI animals dominated their first weekend in theaters, pulling in more than $103 million, and proved that people will turn out for a familiar narrative.
The Jungle Book outperformed on its debut — midweek estimates guessed the gross would be around $70 million. It's only the second PG-rated Disney movie to make over $100 million in the first weekend, according to Deadline. The only other film was Alice in Wonderland in 2010, which also featured heavy CGI.
The Jungle Book sets a new standard for CGI animals. Everything in the movie was animated, except for 12-year-old Neel Sethi, who plays Mowgli. His acting consisted of interactions with a few props and a blue-screen terrain. The only time Sethi engaged with real animals was when puppies were brought in for an early scene — but they were taken out in post production and replaced with CGI wolves for the final cut.
This is another major milestone for Disney's animated classic-to-live action movies. The success of The Jungle Book follows on big returns for previous classic-to-live action movies in the pipeline, including Cinderella and Maleficent. Later this year, an update of cult '70s cartoon Pete's Dragon hits theaters, and the director of that film, David Lowery, is also working on a live-action version of Peter Pan.
Barbershop: The Next Cut, and Criminal also debuted this weekend, the former pulling in $20 million and the latter grossing $5.8 million. In its fourth week, Batman v Superman managed to rake in another $9 million, bringing the movie's grand total to $311.3 million.