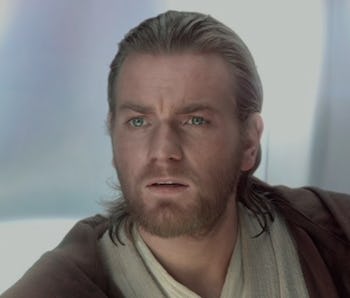 Entertainment
It Looks Like Obi-Wan Kenobi Has Been Confused With Jesus Christ
In Star Wars Episode II: Attack of the Clones, Yoda explained how great kids are by saying "truly wonderful the mind of a child is." And if a new child's quiz about Jesus Christ is legitimate, it would seem at least one youngling has innocently confused Jedi Master Obi-Wan Kenobi with Christian figure Jesus Christ of Nazareth.
On Wednesday, a Star Wars fan on Twitter known as "Depressed Darth" shared an image of what looks like a Sunday school-quiz designed to figure out if children can recognize an image of Jesus Christ. The person (probably a child) who answered the questions decided that it wasn't Jesus, but instead, Obi-Wan Kenobi. Which isn't crazy: they both have a beard, similar hair styles, and the uncanny ability to communicate with the living after they have died. Of the two of them, Jesus is probably a little more straightforward than Obi-Wan, but there's probably a debate there.
This isn't the first time an icon of Christianity has been confused with a character from fantasy. Back in January, a woman in Brazil discovered she had mixed up Lord of the Rings Elf Lord Elrond with Saint Anthony. No word yet if the person who filled out this Jesus quiz has been corrected.
Obi-Wan Kenobi has been rumored to return in The Last Jedi, , which hits theaters on December 15 of this year.