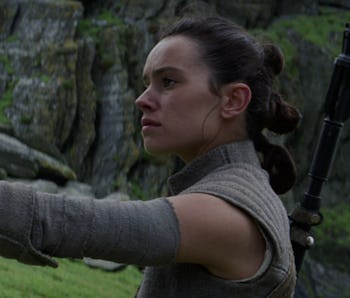 Entertainment
Star Wars Celebration Likely to Kick Off With 'Last Jedi' Trailer
A first look at Rey spinning her lightsaber in The Last Jedi may happen at the very beginning of the big Star Wars Celebration next Thursday. According to the hosts of the offical Lucasfilm YouTube Star Wars Show, a "big surprise" will kick off the convention during the 40th anniversary panel on Thursday, April 13. Could it be a trailer?
On Wednesday, Anthony Carboni of The Star Wars Show mentioned the big 40th anniversary panel will have "plenty of surprises which will set the tone for the entire weekend." While a trailer for The Last Jedi wouldn't be a huge surprise, it would come a full day earlier than the April 14 panel which is specifically about the film. Carboni also said "surprises" plural meaning there could be an official confirmation that some of the guests on the panel — like Hayden Christensen, who played Anakin Skywalker, and Billy Dee Williams, who played Lando Calrissian — might be in future Star Wars films. Could the panel straight-up confirm Anakin's ghost is back?
It's also notable that Ian McDiarmid — who played Emperor Palpatine — is on the panel. Could he be returning as the ghost of the Emperor in The Last Jedi? Also, Dave Filoni, the executive producer of Star Wars Rebels is also on this panel, which means some kind of "surprise" about the future of Star Wars in animated form could be expected too. For context, when Star Wars Celebration was held in Anaheim, CA in April 2015, The Force Awakens panel there revealed the famous "Chewie, we're home trailer."
The 40th Anniversary panel — which includes Hayden Christensen — begins at 11 a.m. Eastern on Thursday, April 13. Lucasfilm will likely live-stream the event on YouTube.