Congress Deletes Internet Privacy: 5 Things You Have to Know
by Monica Hunter-Hart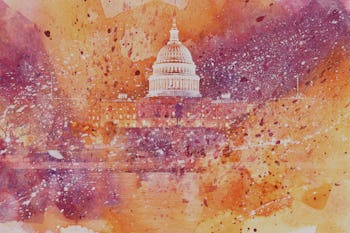 Flickr / freestock.ca ♡ dare to share beauty
By a slim margin, the House of Representatives approved a measure to roll back recent Obama-era regulations that would have prevented internet service providers (ISPs) from using your personal information without permission. Hated by internet privacy advocates and celebrated by ISPs, S.J. Res. 34 is now on its way to President Donald Trump's desk for final approval.
If he signs the resolution, the current norm will stand, which is that ISPs are allowed to use and sell information about your browser history, physical location, as well as other data they glean from your web activity — unless you specifically tell them not to do so. Opponents of the resolution argue that this "opt out" standard disadvantages those who don't know that ISPs can use their data or that they have the ability to opt out. If you don't know to look, your data will be sold.
After the vote, the Electronic Frontier Foundation, an advocacy group for privacy online warned that the bill gives providers "powers to harvest your personal information in extraordinarily creepy ways. They will watch your every action online and create highly personalized and sensitive profiles for the highest bidder. All without your consent."
On the other hand, the ruling was praised by The Internet & Television Association (NCTA). The organization called the Obama-era regulations a violation of "competitive neutrality" since individual websites like Google and Facebook are not held to similar privacy standards.
Here are five things that you need to know now that this measure has been approved by Congress.
5. Google and Facebook currently dominate web advertisements, but that might change
This bill will guarantee the right of ISPs to sell your information to advertisers without explicit consent for the foreseeable future. With this safeguard in place, ISPs may try to edge forward in the market and sell your personal data to advertisers just as much as, or more than, Google and Facebook.
4. The measure makes it easier for ISPs to do some intrusive stuff
Here are just a few of the things ISPs are allowed to do without telling you (and will continue to be allowed to do if the measure passes): tracking your web activity even when you're in incognito mode, using your browser history to hit you with targeted advertising, and redirecting your searches to sites you didn't intend to visit, but that pay ISPs for the traffic.
3. Can this law be overturned? Is it final?
For now, yes, but new measures regulating ISPs will certainly be introduced in the future. They would have a good chance of being passed in a majority-Democrat Congress.
2. The regulations that are about to be overturned were only passed in October
It was one of the Federal Communications Commission's last major acts under President Obama. The regulations hadn't yet gone into effect, but now they definitely won't.
1. President Trump is expected to sign it
So if you don't want your ISP to use or sell your information, you'd better contact them to opt out.