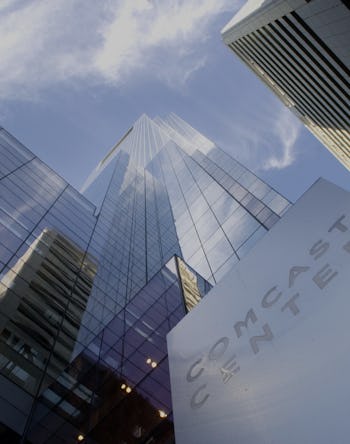 Innovation
Why Comcast Wants So Very Badly to Charge You Extra for Privacy
In other words, Comcast has "discounts" for customers who give up privacy.
Getty Images / William Thomas Cain
Regulating a company as big as Comcast is like snaring a dragon. But after the company's latest move — arguing that internet providers should be allowed to charge customers extra to be excluded from advertising programs — it's privacy advocates who are breathing hot fire.
It started when Comcast issued this ex parte notice from one of its top lawyers on August 1 that recounted a meeting with the Federal Communications Commission. The telecommunications giant argued in that meeting against an FCC proposal which would forbid internet service providers like Comcast from charging an unspecified fee to withhold browsing data that ISP's could sell to advertisers seeking to spot usage trends.
The FCC hasn't stated anything publicly about the filing.
The backlash was swift: "Comcast thinks it's totally chill to charge for privacy," reads a Gizmodo headline, echoing many other blog posts that criticized the company's argument in favor of the practice.
Meanwhile, Comcast's pool of broadband customers keeps growing. In the second quarter of 2016, it added 220,000 new high-speed internet customers — good for "the Best Second Quarter Result in 8 Years," announces a company press release.
This isn't a theoretical problem. Other high-speed internet providers have charged privacy-conscious customers, too. When AT&T introduced fiber-optic internet access in 2013, it made customers pay an extra $29 per month in exchange for keeping their browsing habits private (it should be noted that the data was anonymous and presented in bulk).
"There's a very strong incentive for companies to collect personal information, and in the telecom space these companies have a lot of market power," Jay Stanley, a senior policy analyst for the American Civil Liberties Union, tells Inverse.
Stanley says that the regulations might not mean much if telecommunications companies like Comcast can simply strike deals with customers to give up their privacy rights. They can present customers a promotional offer in which they get a discount for sharing their information.
"Over time those discounts become widespread, and the special and the normal get inverted and pretty soon you have no privacy unless you pay extra for it," Stanley explains.
The problem with dragons is that they like to protect their hoards. This has led ISPs to complain about the FCC's efforts to stop the scenario described by Stanley from happening, and they aren't afraid to use their tremendous power to defend their revenue streams.
Comcast argues that "such a prohibition would harm consumers by, among other things, depriving them of lower-priced offerings," and as FTC Commissioner Maureen K. Ohlhausen points out, "such a ban may prohibit ad-supported broadband services and thereby eliminate a way to increase broadband adoption.'"
'A bargained-for exchange of information for service'
Comcast continues: "A bargained-for exchange of information for service is a perfectly acceptable and widely used model throughout the U.S. economy, including the Internet ecosystem, and is consistent with decades of legal precedent and policy goals related to consumer protection and privacy."
The FCC wasn't in a position to do much of anything about AT&T in 2013, but when it voted to regulate ISPs under Title II of the Telecommunications Act in June, it cleared the path for rule changes like this one. And, of course, it attracted the ire of the ISPs the FCC is attempting to regulate.
Ernesto Falcon, a lawyer for the Electronic Frontier Foundation, a non-profit that's concerned with civil liberties online, says that it's just a matter of time before telecom companies sue the FCC.
"I am certain that the broadband providers will go to court against the FCC on that," Falcon tells Inverse.
"First [the ISPs] will argue that it violates their 1st Amendment rights, then they'll argue that it violates their 5th Amendment rights. They love to throw that in there," Falcon says.
(Repeated requests by Inverse for an interview with Comcast were not met.)
Falcon continues: "Then [Comcast will] argue that it doesnt comport with the statute, and then they will argue that the FCC didn't follow procedure. These are the standard lists of arguments they follow whenever the FCC introduces new rules."
The problem is that ISPs enjoy a huge amount of leverage over consumers and regulators. Civil liberties organizations like the EFF fear that ISPs will use their traditional arguments against regulation as an excuse not to bring high-speed internet access to more consumers. As FCC's data visualization maps show, most of the country still doesn't have high-speed access:
Even if high-speed internet access is available, in most areas there's very little competition between ISPs. Most people are lucky if they can choose between two ISPs; many have to choose between one service or not being able to access the internet. Companies like Comcast could use their local control over internet service to bully the FCC and other regulators into letting them do what they want.
"I certainly think these carriers, like businesses in general in today's Washington, do have a lot of political power," Stanley says. "They have power in congress, they have power in the White House, and at the end of the day they have power with regulators. I think that's true of any big company, whether that company is in a quasi-monopolistic or oligopolistic market or in a place with a lot of competition."
He says this makes strong rules more necessary. "That just heightens the need for good privacy protections because consumers cannot count on their ability to vote with their feet if they don't like the privacy policy that a particular carrier has," Stanley says. "And because the number of carriers is so small, even where there are three or four choices, there's a good chance that if things are allowed to evolve without privacy protections then all carriers will have privacy-invading options."
And while Comcast wouldn't make time for an interview, it did send over this statement. (The strange thing is that Comcast doesn't currently ask customers to pay more for privacy.) Here's the company:
While Comcast has no current plans to offer a discount tied to customer willingness to allow data to be used the way it is today by the entire Internet ecosystem, the FCC's extreme and unprecedented opt-in proposal that is not justified by the record, requires us to consider how to create additional choices that would allow us to compete in this ecosystem and benefit customers.
When asked by Inverse how the FCC has responded to Comcast's letter, and whether the agency has had other meetings related to this issue, an FCC deputy director of media relations Mark Wigfield responded with the following message:
As you may know, we sought public comment on these issues in the March Notice of Proposed Rulemaking. We are currently reviewing those comments and discussing policy options […] The full text is available here: https://apps.fcc.gov/edocs_public/attachmatch/FCC-16-39A1.docx. The relevant section starts with paragraph 258. […] As to whether there have been meetings between Comcast and staff/commissioners, the best way to check is to use our Electronic Comment Filing System, where anyone making a presentation or meeting on a docketed item at the commission must disclose that meeting.
Comcast isn't fighting the FCC's proposal because it threatens its business. The company is spewing fire because it fears these regulations could cause problems in the future, or limit its ability to introduce another revenue stream that its customers will have to put up with if they want to be able to access the internet.
"It's all mostly a stall tactic," Falcon says. "These companies have the money to throw at this."
Comcast is fighting a rule change that would give people the same privacy protections for their browsing habits that they do for their phone calls — not because it wants to invade customer privacy, not because its business depends on it, and not because it cares. But because it can afford to.
Story has been updated with comment from the FCC