Everything We Know About 'The OA' Season 2
From Homer's NDE to mysterious braille, here's what you need to know.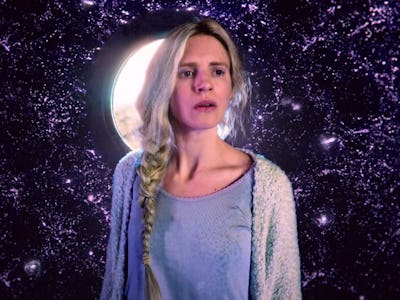 Netflix
Season 2 of Brit Marling's supernatural mind-bender, The OA, does not yet have a release date. Considering the fact that Season 1 was announced one week before it dropped on Netflix, it's unlikely that there will be a long build-up of hype. But creator and star Brit Marling has dropped enough hints to scrape together an idea of what the show's sophomore season will look like.
Season 1 revolved around Marling's character, Prairie, a young blind woman who returned to her community after spending seven years missing. Mysteriously, whatever happened to her during that time helped her regain her sight. As the show unfolded, it contained two timelines. In one, Prairie interacted with her parents and community and relayed her story to a group of five misfit boys and their teacher. In the other, Prairie's story played out for the viewer to see. It's a fantastical tale involving the Russian mob and a sadistic scientist who is researching Near Death Experiences — or NDEs — by testing human subjects he keeps in his basement. There was also dimension-unlocking interpretive dancing involved.
Season 1 ended by casting doubt upon Prairie's story. One of the boys she bonded with discovered books in her house that would seem to imply she fabricated her ordeal. It's possible that her FBI therapist planted them there, but the show left it ambiguous. So what does that mean for Season 2?
Answers Are Coming
In her announcement about Season 2, Brit Marling explained that "everything is ultimately solvable," and "we designed the ending from the very beginning." Among the clues she sites as solvable? That mysterious braille on the FBI wall.
When Prairie and her parents meet with her possibly-shady FBI therapist, there is a braille message on his wall reading "Rachel." Rachel is, of course, the name of one of Prairie's fellow captives in her story — and curiously, Rachel is the only one who never has an NDE to receive a dimension-traveling "movement." Eagle-eyed fans found this in Season 1. The fact that Marling sites it as an example of things that are "solvable" means all the fan theories are onto something. This will be relevant.
It Will Lean More Supernatural
For those who thought Prairie made up her entire ordeal and was in a mundane setting for seven years, that theory can be put to rest. In her announcement, Marling said that Season 2 will amp up the show's supernatural elements. "The first part is the story of a young woman who is traumatized and tells a group of boys this story, and in doing so, allows them to face a moment of their own crisis at the end," she said. "That is the self-contained story but the more science fiction metaphysical threads are open-ended, so there can be a part 2 in which we can dive into those spaces."
The Golden Gate Bridge and Homer's NDE Will Be Important
The Golden Gate Bridge appears in the brief Season 2 teaser. You know where else it appears? In Homer's weird and mysterious NDE in the fourth episode. In Hap's office, he hears an audio feed of it in which a voice says, "you are not Homer," and "my name is Doctor Roberts." In the NDE, he runs through the halls of a hospital until he reaches a room with a fish tank. The Golden Gate Bridge can be glimpsed outside the window. One enterprising fan found that this view of the bridge comes from an oddly specific vantage point. The fact that it appears in the preview means that Homer's mysterious NDE is relevant and will come into play.
This article will be updated as more information about Season 2 unfolds.