What to Expect From 'The OA,' Netflix's New Creepy Thriller
Netflix's mysterious new show is being touted as the next 'Westworld' and 'Stranger Things.' Here's what to know before the show drops December 16.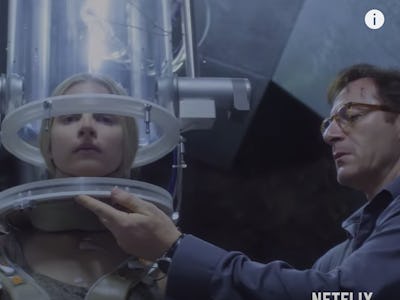 Netflix/Youtube
Netflix has a mysterious new show dropping on Friday December 16th that looks to be Stranger Things meets Westworld meets Twin Peaks. As far as anyone can tell, The OA involves memory loss, parallel dimensions, and characters questioning whether their seemingly fantastical experiences are real or they're going nuts. Of course, since Netflix just announced the show on Monday, giving the world less than a week to build buzz, it's very hype lies in its lack of hype.
The basic premise is as follows: A young woman named Prairie, played by the show's co-creator Brit Marling, reappears after having vanished for seven years. Curiously, she was blind as a child, but can see upon her return. She can't remember where she's been for seven years … or can she?
In the trailer Prairie maintains that she wasn't truly gone. "I was present for all of it," she says. "The biggest mistake I made was believing that if I cast a beautiful net, I'd catch only beautiful things. I remember everything."
Unlike Stranger Things's well-defined Upside Down, the trailer features a series of placid dreamlike landscapes that might be an alternate universe but they might also be what's know as the Mandela effect. Of course, as this is Brit Marling, which means if we get an answer, it'll be much less cut and dry then we expect.
Brit Marling created the show along with Zal Batmanglij. Previously, the duo made the film The East, based on their real-life experience living in tents and scavenging from dumpsters as part of the freegan movement.
The East is about a woman who goes undercover to investigate an underground ecological anarchist group that attacks corporations to fight corruption. In over her head, the woman starts to sympathize with the group she's supposedly investigating. The story ends on an ambiguous note with her loyalties divided.
Marling and Batmanglij also collaborated on the film Sound of My Voice, about a documentary filmmaker who goes undercover to investigate a cult lead by a woman (played by Marling) who claims to be from the future. The filmmaker gets in over his head and starts to doubt his initial skepticism of her story. Much like The East, with the viewer uncertain about whether she's a fraud or truly is from the future.
Although Marling did not collaborate with Batmanglij on her breakout role Another Earth, the film — which she also wrote and stars in — has a similar tone of mystery, melancholia, and cerebral sci-fi with an ambiguous ending.
The OA is a different format as an eight-episode series, but going off Marling and Batmanglij's previous work, expect it to dive into an underground subculture or movement, keep you on your toes about what the truth really is, dance a fine line between the supernatural and the psychological, and end on an ambiguous note.
In other words, it will be a hell of a story. But as The East and Sound of My Voice both appealed far more to niche audiences — more along the lines of people who like The Leftovers more than Stranger Things — the burning question will be whether it can capture that massively popular Stranger Things buzz or not.
Emory Cohen (Brooklyn,The Place Beyond The Pines) and Jason Isaacs (Lucius Malfoy in Harry Potter; an actor with an A+ Twitter feed in real life) star alongside Marling.
The OA will stream on Netflix Friday, December 16th.