Mike Pence Looks Like a 'Jonny Quest' Character
And the meme-smiths on the internet noticed.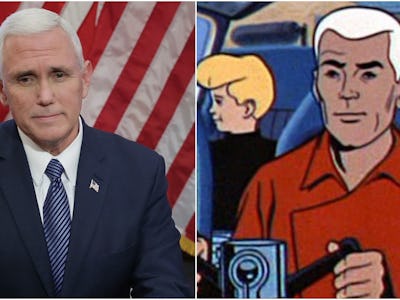 When it comes to memes, Joe Biden is a hard act to follow. But after a little more than a month in office, the internet has found a way to make Vice President Mike Pence into a meme. Turns out he looks exactly like a character from the old adventure cartoon Johnny Quest, and folks are having a great time inserting Pence (and current-day politics) into wacky situations from the show.
Pence, with his taut Ken-doll face and impossible white hair, is a dead-ringer for Race Bannon (no relation to the White House's Steve Bannon, but the coincidence is almost too perfect). In the original 1964 show, Bannon was a skilled special agent and bodyguard assigned to protect Jonny and Dr. Benton C. Quest as they traversed the globe on pulpy adventures. People noticed that Pence and Bannon looked identical years ago, but the memes are really starting to pick up steam now that a character has started to develop. Just like "Diamond," Joe Biden was portrayed as a simple prankster; the meme-version of Pence has its own slightly exaggerated persona.
In the memes, Pence is a homophobic, xenophobic, swashbuckling brawler. People are taking scenes from the show and giving them new captions so Pence's Bannon (and Barron Trump as Jonny Quest) are punching gay people or illegal aliens.
The above meme has already garnered over 17,000 upvotes on Reddit. A Twitter account sprung up, naturally, to collect some of the other Pence memes.
The meme really highlights how ~problematic~ Jonny Quest was (and how problematic 2017 is).
The memes are reaching new popularity at an especially fun time for Pence, since news just broke that Pence, who railed against Hillary Clinton's use of a private email server, conducted official state business on his personal AOL email and was hacked.
This isn't the first time the internet has roasted Pence. People dragged him for a tweet honoring a white man for Black History Month in January.
It's worth noting that the name "Race Bannon" perfectly sums up the Trump administration.