Google Doodle Celebrates Pakistani Philanthropist Abdul Sattar Edhi
He founded the world's largest volunteer ambulance service.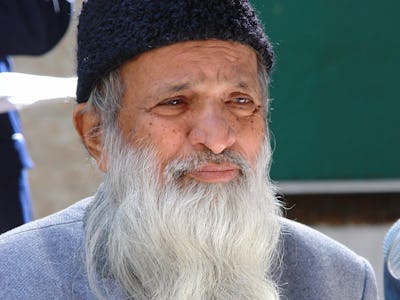 Flickr / junaidrao
Google rolled out another special doodle on Tuesday, this one in honor of philanthropist Abdul Sattar Edhi.
Edhi, a Pakistani who would have been 89 years old on Tuesday, founded the Edhi Foundation, the world's largest volunteer ambulance force. Born in Bantva, Gujarat, India, Edhi led a life dedicated to helping the poor. His foundation operates 24-hours a day and has charged nothing for its services since the moment it was founded in 1951, when Edhi himself was near-destitute and had to literally beg for donations of money and time.
When Hurricane Katrina hit the United States, Edhi's foundation donated $100,000 to the relief effort. His ambulance service, which today has over 1,800 ambulances in Pakistan, makes the Edhi Foundation Pakistan's largest welfare organization.
Edhi put an emphasis on the humanitarian lens of his work. Once, confronted with the question of why he helped non-Muslims, Edhi famously responded, "Because my ambulance is more Muslim than you."
The doodle shows Edhi himself, and next to him is an ambulance, a hospital, a family, and a book. Google said of Edhi in a statement:
In fact, he and his family slept in a room near the foundation's headquarters and had only a few belongings. But his charitable empire and "family" were vast — at the time of his death, he and his wife, Bilquis, were registered as parents or guardians of tens of thousands of Pakistani children. "My mission is to love human beings," he said in an interview. "Each day is the best day of my life."
Google's decision to honor Edhi — one that follows a month of honoring others, often overlooked heroes and influencers — comes in a time of religious tension in the U.S., spurred in no small part by Trump's actions against immigration. anti-Semitic sentiment is also on the rise, with threats being made to Jewish centers across the country.
People on social media have taken notice of the doodle and, so far, it has been met with a largely positive response.
It seems as though, for many, the doodle has already been successful in its mission — to honor Edhi and educate those who may not have known about him and his work.
It appears that Google, with the Edhi doodle, is beginning a tradition of highlighting a diverse group of unseen figures and their contributions to the world, complete with some clever artwork. It's something that feels sorely needed.