Muslim Community Raises Over $85,000 to Repair Vandalized Jewish Cemetery
The initial goal of raising $20,000 has been significantly surpassed.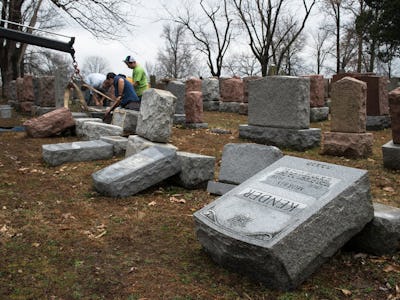 The New York Times
Over the past weekend, vandals damaged almost 200 graves at a Jewish cemetery west of St. Louis in University City, Missouri. As officials investigate the crime, others have found alternative ways to help: Muslim community organizers launched a crowdfunding campaign, raising over $85,000 to repair the damaged graves as of midday Wednesday.
When news of the Chesed Shel Emeth Society cemetery vandalism broke, Linda Sarsour of MPower Change and Tarek El-Messidi from CelebrateMercy teamed up to quickly begin raising money on Muslim crowdfunding site LaunchGood. Their initial goal was to raise $20,000. Within just two days, the campaign has significantly surpassed that goal, reaching $85,000 around 3 p.m. EST on Wednesday. The total is still climbing.
The campaign's organizers explained on their LaunchGood page that they were "inspired by the example of our Prophet Muhammad, peace be upon him, who stood up to pay respects for a passing Jewish funeral procession. When questioned on why he stood for a Jewish funeral, he responded, 'Is it not a human soul?'"
The act of unity and charity stands as a powerful rebuke to the recent uptick in anti-Semitic and anti-Muslim sentiment in the United States, spurred on by the increased boldness of those in the "alt-right" and President Trump's attempts to institute a Muslim immigration ban.
In the past week, there have been over 60 threats on Jewish properties and centers throughout the country. The cemetery vandalism is no doubt a symptom of this rising tide of anti-Jewish sentiment. The FBI has stated that it is investigating at least 11 bomb threats made to Jewish centers across the country.
President Trump, during his Tuesday visit to the Museum of African American History and Culture, called these trends "horrible" and "painful." Still, his words were too little and too late to placate many Jewish activists, like the Anne Frank Center.
Sean Spicer on Wednesday defended the president's comments and said he wished instead that the Anne Frank Center had praised the president's words.
President Trump was also asked at a press conference last week by a Jewish reporter about these threats and other incidents. The president responded by saying he is "the least anti-Semitic person you've ever seen in your entire life."
For now, at least, this crowdfunded act of Muslim charity will ease the University City cemetery's process of rebuilding. In a different time, the outreach to this Jewish cemetery would perhaps be less nationally notable. But, in a year that seems bound to be fraught with religious and political divides, it seems like a reminder of human decency. The campaign has made clear that any money that is left over after the cemetery repairs are made will go toward funding the cleanup of other acts of vandalism on Jewish sites.