The 20 Best 'See You in Court' Memes
There's been a reaction to Trump's reaction.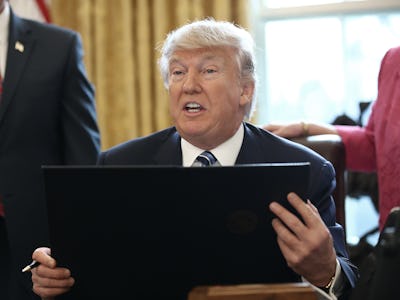 Getty Images / Win McNamee
On Thursday, President Donald Trump was dealt a legal defeat when a federal appeals court refused to reinstate his Muslim ban. It was not a wholly unexpected outcome given the widespread resistance to the executive order, but it was nevertheless an outcome that greatly frustrated the president.
Like usual, Trump took to Twitter to make known his disapproval of the ruling. Not long after the decision was announced, Trump tweeted (in all caps): "SEE YOU IN COURT, THE SECURITY OF OUR NATION IS AT STAKE!"
For Americans opposed to the ban, the ruling and this strong reaction were seen as a victory. People on Twitter began meming the president's statement and poking fun at his choice of wording, which also happened earlier this week when he tweeted about "EASY D." It also read strangely because the fate of the ban was quite literally just decided in a court, of all places. Thusly, #SeeYouInCourt was born.
Here are some of the 20 best "see you in court" memes and jokes:
20. The sting of being struck down.
19. Pointing out the obvious.
18. It's getting hard to keep track.
17. Maybe too soon for Atlanta fans.
16. Bring it on.
15. At least then people would know where you stand.
14. Tasty and constitutional.
13. Pretty sure that's not how that works.
12. Let's hope not.
11. Their one weakness.
10. Judges are the new life of the party.
9. He'll bite your legs off.
8. The essence of futility.
7. On this episode of Judge Judy …
6. A constitutional crisis if there's ever been one.
5. Priorities.
4. Yeah, well, someone had to do it.
3. Maybe he'll be all shouted out?
2. It's like a reality show — wait a minute …
1. Getting the point across with stick figures.
And even Secretary Clinton got in on the action.