Insane Clown Posse Plans 'Juggalo March on Washington' for September
They're fighting back against misconceptions about the group.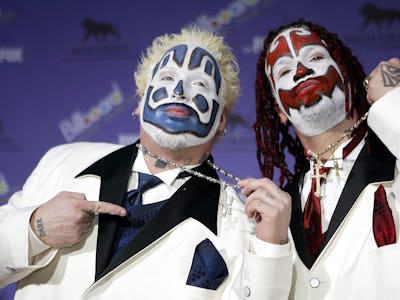 Getty Images / Carlo Allegri
Even Juggalos have a bone to pick with the government. Much like the Women's March that took Washington, D.C. by storm, the Insane Clown Posse has announced their own march on the nation's capital to protest the FBI's classification of their fandom as a "loosely organized hybrid gang."
The Juggalos, as fans of the band call themselves, have scheduled the march for September 16, 2017. According to the event's website, its goal is "to make a collective statement from the Juggalo Family to the world about what we are and what we are not." They want to fight back against alleged discrimination and harassment that community members have faced over the years simply for being Juggalos.
The organizers state that since the "gang" classification was made in 2011, people "have lost custody of their children, been fired from jobs, denied access into the armed forces, and the most common consequence being officially labeled as a gang member by law enforcement agencies for wearing Juggalo related clothing or brandishing one or more Juggalo tattoos."
Juggalos argue this classification is hardly fitting, since the FBI's logic for putting it in place is based on little more than individual crimes committed by people in Juggalo garb or bearing Juggalo tattoos.
Organizers have also posted various Juggalos' personal accounts of discrimination. One Juggalo, Laura K., shared an experience with law enforcement. An "officer in charge of the gang unit brought me back and asked me some questions about my affiliation with the Juggalo gang. I informed her that I was in no way a gang member, but a fan of ICP's music and that Juggalos were nothing more than a misunderstood fan base and sub-culture." Laura "told her about all the good things we do, such as food drives and collecting water for Flint residents." In response, the officer "told me how Juggalos were thieves and murderers." Laura says she has been barred setting foot on school grounds, at the cost of attending her niece's dance recital, and from attending concerts. She's also faced random home visits by gang unit officers.
The Juggalo March comes on the heels of a pivot in the public's relationship with clowns. The latter half of 2016 was marked by creepy clown sightings all around the country that freaked people out and even sparked aggression in some cases. But, to hear the Juggalos tell it, their march is designed to prove that this group of fans isn't so creepy after all.
The march will also feature a free concert with artists such as Glasses Malone, Liquid Assassin, and Insane Clown Posse themselves.