These 5 Teams Are Racing to Land on the Moon This Year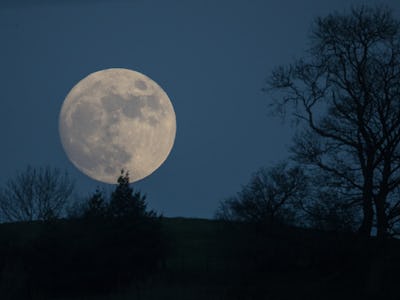 Getty Images / Matt Cardy
The race to the moon is on once again. Armed with verified launch contracts, five teams in the Google Lunar XPRIZE competition will be advancing to the final round — and attempt to land a robotic spacecraft on the moon before the end of this year.
The Lunar XPRIZE was created by Google to stimulate innovation in space exploration. The contest is pretty simple: A team must be the first to land its unmanned spacecraft on the moon by December 31. That spacecraft must explore at least a third of a mile of the moon's surface and send visual evidence of its journey (photos and videos) back to Earth. A total $30 million worth of prize money is at stake, with first place being worth $20 million alone.
This moonshot was even the subject of a nine-part documentary series directed by J.J. Abrams that can be streamed online. The five finalists were whittled down from a total of 16 original teams.
"Each of these teams has pushed the boundaries to demonstrate that you don't have to be a government superpower to send a mission to the Moon, while inspiring audiences to pursue the fields of science, technology, engineering, and mathematics," said Chanda Gonzales-Mowrer, senior director of Google Lunar XPRIZE, in a statement.
Moon missions have so far only been federally funded expeditions sponsored by the U.S., the former Soviet Union, and China. But this competition will help create pathways for private space exploration. Here are the five teams that will be shooting for the moon.
SpaceIL (Israel)
SpaceIL was the first to sign a launch agreement in October 2015, and it has secured a position on SpaceX's Falcon 9 rocket. This non-profit organization hopes to create an "Apollo Effect for Israel" and inspire Israelis to become interested in the STEM fields. If SpaceIL wins the prize, the money will go towards this educational cause.
Moon Express (USA)
The U.S. government approved the Florida-based team's mission back in August, marking the first time the U.S. government approved a private mission to the moon. Moon Express was the second team to obtain a verified launch contract, and it's already preparing for future missions to the "Eighth Continent," as Moon Express CEO Bob Richards calls it. The team signed a launch contract with Rocket Lab USA for three lunar missions by 2020.
This year, Moon Express plans to send the MX-1E to the moon, a 20-pound lander that can hop across the surface and collect data, images, and videos. Beyond this mission, Moon Express hopes to open up commercial space activities beyond Earth's orbit, as well as turn the moon a platform for scientific research.
Synergy Moon (International)
This team includes people from over 15 countries and was the third to obtain a launch contract. Interorbital Systems, one of Synergy Moon's team members, will use a NEPTUNE 8 rocket to carry a lunar lander and rover to the Moon's surface. Synergy Moon hopes to make manned orbital travel, personal satellite launches and even Solar System exploration accessible and cost-effective. As a global team, Synergy Moon promotes international cooperation in space exploration and development.
TeamIndus (India)
Close to the deadline in December, TeamIndus signed a launch contract with the Indian Space Research Organization's Polar Satellite Launch Vehicle (PSLV) and became the fourth team to do so. TeamIndus's spacecraft can fit inside the nosecone of the PSLV and will launch from the Satish Dhawan Space Centre in Sriharikota.
After lifting off, the rocket will place TeamIndus' spacecraft into an elliptical transfer orbit. The spacecraft is aiming to land on the Mare Imbrium region, where China's first spacecraft landed in 2013.
HAKUTO (Japan)
Hakuto signed a rideshare agreement in which TeamIndus will carry Hakuto's four-wheeled rover to the Moon. Hailing from Japan, a global leader in space robotics, the name "Hakuto" means "White Rabbit," which comes from a Japanese folktale about a rabbit that can be seen in the dark areas of the lunar surface. Hakuto wants to use its spacecraft in a unique way — to explore the holes on the Moon, which are thought to be "caves or skylights" into lava tubes underneath. This could explain the Earth's volcanic past and even potentially lead to creating suitable habitats that can protect humans from the Moon's hostile atmosphere.