Israel's SpaceIL Is First to Sign Launch Agreement for Google Lunar XPRIZE
The first team to land on the moon takes home the $20 million top prize.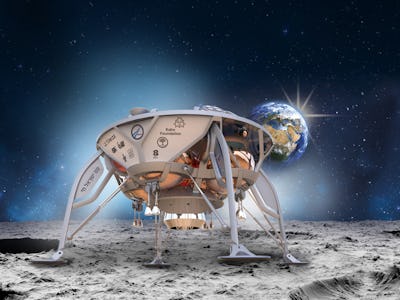 SpaceIL
The new race to the moon is on! Google has pledged $30 million in prizes to the first privately funded team to land a space shuttle on the moon, explore at least a third of a mile, and transmit photos and video back to Earth (presumably for a mapping and ecommerce product they'll call GoogleMoon.)
Israeli team SpaceIL hit a milestone today by becoming the first of the 16 remaining teams to sign a verified launch agreement for their mission.
"The magnitude of this achievement cannot be overstated, representing an unprecedented and monumental commitment for a privately funded organization, and kicks off an exciting phase of the competition in which the other 15 teams now have until the end of 2016 to produce their own verified launch contracts," says XPRIZE President Bob Weiss in a statement.
The SpaceIL team hopes that their ambitious project will inspire other Israelis to become interested in science, technology, engineering, and math. They have pledged any prize money they win to that cause.
Google's XPRIZE was created to stimulate innovation in the area of low-cost space exploration. To date, only state superpowers of the United States, the former Soviet Union, and China have funded successful soft moon landings. Google hopes this competition will usher in a new era of space exploration, where private enterprise plays a central role.
The teams have until the end of 2017 to complete the mission. The first successful team wins $20 million, and the second wins $5 million. There are a number of bonus prizes for achievements like surviving the lunar night or visiting an Apollo landing site.
Milestone prizes for technological accomplishments to date were awarded earlier this year:
SpaceIL's launch agreement partners the team with Spaceflight Industries, an American company that launches satellites. Spaceflight recently bought a SpaceX Falcon 9 rocket, which will be used to get SpaceIL's moon lander into orbit.
Spaceflight Industries is pretty excited about it.
"The reality of that statement 'secured a ticket to the moon' is finally taking hold now, almost a week after the signing of the contract," writes Senior Mission Manager Mitch Elson on the company blog.
"When you think about the idea of signing up for launch services, the idea of placing hundreds of millions of dollars in satellites on the front of a rocket, of the engineering feat of design and analyses needed to integrate more than 12 satellites ranging between 50 and 575 kilograms it becomes quite significant.
"Then if one starts thinking more quantitatively of just how unique and special this event is it becomes a thing that grows goosebumps on the skin and induces tingles in stomach. It's the world's FIRST commercial lunar mission!"