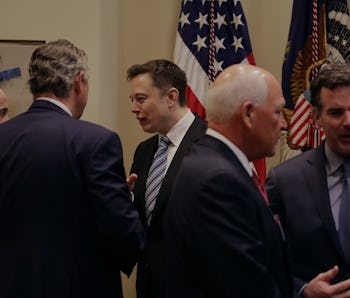 Innovation
Elon Musk Just Met With President Trump at the White House
Getty Images / Chip Somodevilla
Tesla CEO Elon Musk and other figures from American industry met with the Trump Administration today, hoping to speak with the new President about the future of manufacturing in the United States. The meeting was apparently not specifically part of Musk's personal role as one of the new President's technology advisors, and also included the CEOs of Lockheed Martin, Johnson & Johnson, Whirlpool, and Under Armour.
Early in the meeting, Trump announced he would "cut regulation by 75 percent" for business — though it was not immediately clear whether that number was expressed in terms of the number of individual regulations, or monetary impact. If this is to be the Trump Administration's carrot, then officials were clear about the nature of the stick: if deregulation doesn't make American manufacturing desirable enough, then perhaps a "very major" tax on imported goods will, instead.
On the surface, this is perfectly in line with the brand Musk has built as an old-fashioned titan of industry; the Tesla sales model spent years pushing up against unfair regulation in the auto manufacturing business. Tesla's manufacturing scheme also includes a pivot towards making American products in America, and has created several hundred jobs at its Gigafactory in Nevada.
However, Elon Musk offers a uniquely appealing avatar for Trump strategists, since not only does he embody the spirit of American industriousness (and not only is he a much-needed immigrant in the Trump White House), he's also got another major source of appeal: SpaceX. The Trump team has expressed interest in Musk's eagerness to go to Mars.